The 5 Best Bike Covers Review with Buying Guide
Protecting your bike from damage during storage is a must-do because the metal frame can become victim to the elements. Any mountain biker worth their salt, or even anyone passionate about mountain biking, knows that buying a bike cover is absolutely essential. Also, these best bike covers are also handy tools to shelter the bike from the nosey eyes of potential thieves, considering your mountain bike can be a very expensive one.
There are many things to consider when purchasing a bike cover, and many potential places to buy from, thanks to the ever-expanding online market of biking accessories. It is vital to consider what protection the bike actually needs. Where is it stored? Indoor bikes require a simple dust cover, whereas outdoor bikes need protection from UV rays, rain, bird droppings, and other natural damages.
​Please note that as an Amazon Affiliate we may earn commission from qualified purchases — thanks for your support!
Quick Answer – Best Bike Covers
Also, if it is an outdoor bike then it is important to consider the local weather, and what puts the bike at risk. For example, elastic straps are handy in windy conditions, whereas rainy areas definitely need a good waterproof layer around the bike. Considering things like this before buying can help in choosing the best bicycle cover. When buying a bike cover, it is also essential to be aware of other things, such as ensuring the cover is the right fit for the model and size of the bike.
Why is a Bike Cover Necessary?
As briefly mentioned above, bikes are at risk of damage from outdoor conditions. Rain can cause the bike to rust, whereas UV rays can cause sun fading which ruins the look of the bike, and even corrosive pollution in the atmosphere can damage a bike for good. Indoor bikes are also at risk, with dust proving to be a threat to certain mechanisms in the bike. Furthermore, nobody wants a dirty bike, which can happen to vehicles both indoors and outdoors.
Mountain bikes are expensive, so obviously protecting the bike is vitally important to avoid unnecessary costs for repairs or replacements. Buying a bike cover is a sensible investment that will make the bike last much longer.
Detailed Reviews of Top 5 Bicycle Covers
1. YardStash Bicycle Cover
The YardStash Bicycle Cover is a affordable yet high-quality option for those in possession of a Beach Cruiser, 29er, Mountain Bike or Electric Bike. Despite only being available in size L and XL, this product is definitely worth it for those with a large bike. The cover actually provides complete coverage for two bikes of a large size.
The cover (82. length x 30. width x 44″ height), is made from a heavy-duty fabric for the utmost protection from rain, snow, dirt and dust. The full coverage includes the pedals and wheels, meaning the bike is fully protected from the ground up.
Additionally, this cover has a wide tapered design for a casual, easy fit, making it easy to put on and take off. This design also means that it can fit over bikes which feature baskets, baby seats, or racks.
The fabric is UV protected with 210D and 600D Heat Shield polyester, which is one of the strongest forms of UV protection. Taped seams add further protection, while the addition of reflective strips makes the cover visible in the dark to avoid accidents.
An elasticated front and back hem aids security in windy conditions, which is furthered by a clasp buckle in the middle. Additionally, there are front air vents to prevent condensation and rusting, and eyelets on the front which are ideal for locking the bike.
Pros
Affordable
Heavy-duty
Full coverage of pedals and wheels
Wide tapered design
UV protected
Elasticated hem
Front air vents
Cons
Available only in L, XL, and XXL. No kid's sizes.
2. Pro Bike Cover for Outdoor Bicycle Storage
Designed by the company Pro Bike Tool, this Pro Bike Cover is one of the best bike covers on the market. Made from a heavy-duty RIPSTOP Oxford Fabric, this cover provides extremely high-quality protection, even using double stitching and heat-sealed seams.
This cover protects from rain, snow, dust, wind, and sun, creating the perfect outdoor bike cover. This fabric is also waterproof and anti-UV, with a PU coating for reliable protection. A front lock hole design is ideal for cables, chains, or U/D-locks, allowing extra security.
Reflective safety loops, situated above the handlebars, allowing the user to locate the handlebars easily, as well as avoiding accidents with the reflective material. Available on Amazon, the Pro Bike Cover comes in three sizes. Unfortunately, it is not the correct size for smaller models, only coming in Large, XL, and XXL, designed for 29ers, mountain bikes, road bikes, hybrids, cruisers, and electric bikes.
The only color available is black. The fit of this cover is very safe and secure, with an adjustable bottom strap that uses a toggle for easy usage. A bonus buckle strap is also included, allowing the rider to secure the midsection of the bike cover, providing extra protection in windy conditions.
Pros
Heavy-duty, high-quality fabric
Waterproof and anti-UV
Adjustable bottom strap
Reflective safety loops
Cons
Only available for large bikes
Only available in one color
3. Baleaf Oxford Fabric Waterproof Bicycle Cover
Baleaf has designed this cover from Oxford fabric, which is waterproof, thick, and durable. This fabric not only protects the bike from weather including rain, snow, sun damage, and dust but also prevents the bike from being scratched during storage.
This stylish cover comes in a color combination of black and silver, with the silver material being made from high-tech, heat-reflective, waterproof material. This is the ideal way to protect the bike from UV damage.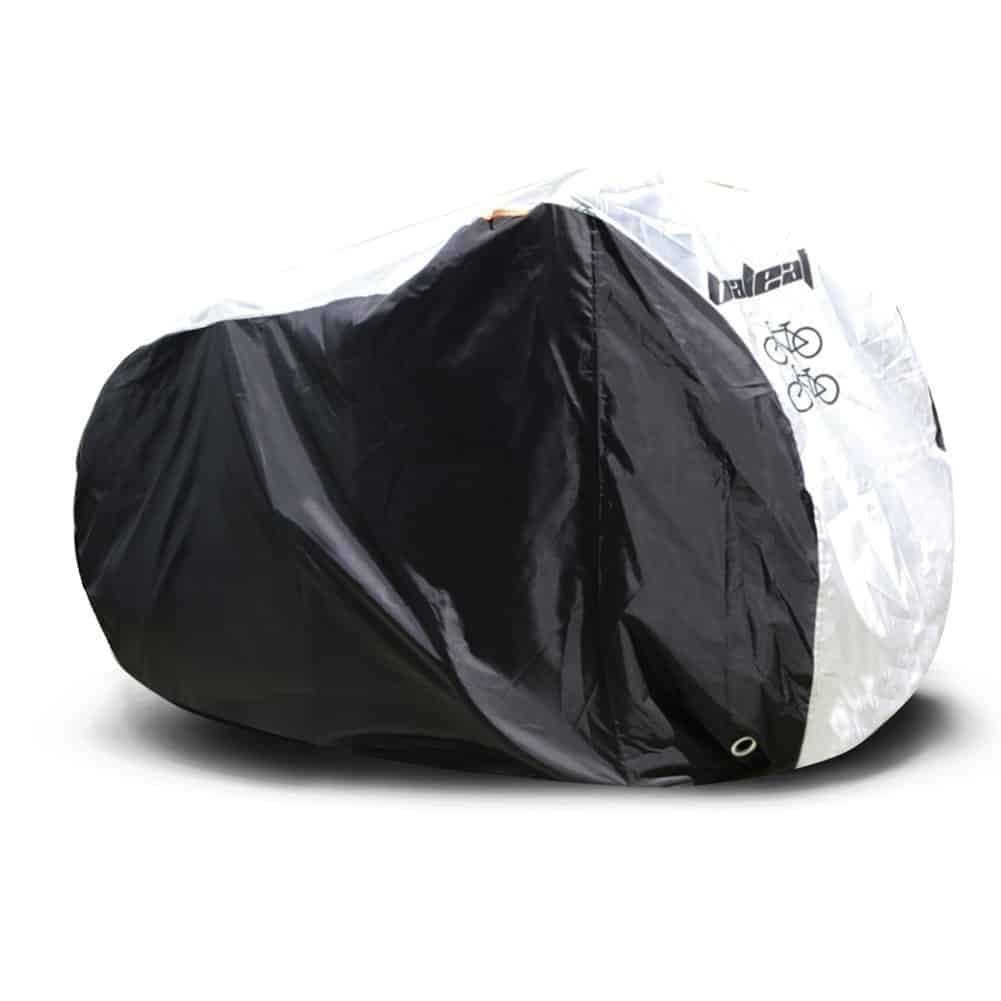 The cover will remain safe and secure thanks to a strap and buckle on the bottom, preventing fly-aways on windy days. Of course, preventing the cover from coming off the bike is important in order to both avoid losing the cover and provide the best protection for the bike.
The lock hole design allows the rider to attach the cover to the lock, while eyelets on the front mean that various forms of lock can be used for extra security. This cover is available in the size 84.6″ long x 31.5″ wide x 452″ high, which is perfect for storing two bikes.
Pros
Waterproof, durable fabric
Heat-reflective
Bottom buckle strap
Lock holes on the front
Cons
Only for riders with two bikes
4. Ohuhu Bike Cover
The cover is made from 2107 nylon, which is quite a dense and durable material, designed to provide protection for the bike. The fabric, with a black middle and silver-sides, is strong and waterproof in order to protect the bike from rain, dust, sun-wear, and scratching.
In addition, the silver parts are UV-proof 40+, providing extra protection from the sun's rays. The bike is also protected from the wind with a specially designed buckle at the bottom that stabilizes the cover on top of the bike.
It must be noted that the cover does not extend all the way to the bottom of the wheels, so a small part of the bike does remain exposed during storage. This cover is available in the size 78.7 length x 43 width x 27 5″ height, but is easily-foldable for better storage and travelling convenience.
Pros
Strong, waterproof fabric
UV-proof 40+
Bottom buckle strap
Easily foldable
Cons
Does not provide full coverage
5. Yougai Bike Cover
You Gai have designed this cover with a 210D polyester fabric, which possesses a high density and durability to protect the bike; this material is more tear-proof than Nylon, meaning the product will last longer and provide better results.
Additionally, it provides windproof and weatherproof protection, preventing damage from rain, dust, sun, and scratches. The silver sections on the cover have UV-proof 40+, avoiding any sun damage that the bike may have otherwise suffered.
A special lock hole design, with the lock hole at the front of the bike, makes it easy to secure the bike with a lock or chain. The buckle on the bottom stabilizes the cover so that it will remain in place even on windy days. The buckle is designed to fix both the bike cover and the front wheel, while the bottom edge is also elasticized to give the cover a better fit.
The 78.7. length x 27 5″ width x 43 height is ideal for bikes with up to a 29″ wheel size. Furthermore, this cover features an extra buckle on the top for hanging the cover-up whenever it needs drying.
Pros
Tear-proof, durable fabric
UV-proof 40+
Easy to secure
Bottom buckle strap
Extra buckle for hanging
Cons
Will only best fit 29" wheel bikes
Not the most heavy-duty fabric
Conclusion
Buying a bike cover is extremely important for any mountain bike rider. It is a wise economic investment that protects the bike from any damage it may encounter, avoiding unnecessary extra costs in the form of repairs and replacements.
When deciding what type of bike cover to buy, it is critical to take into consideration a lot of factors. Such as where the bike is stored, what the local weather conditions are, and what type of model the bike is so that the product can fully satisfy all its requirements. Once the necessary requirements have been decided, there are many bikes covers out there to choose from, it's simply a matter of picking the right one for you.
What to Search for Selecting the Best Bike Covers?
To avoid disappointment when buying a bicycle cover, shop around for the best bike cover that suits particular storage needs. For example, outdoor storage will most likely require a waterproof fabric, and some covers even come with an inner layer fleece to protect the waterproof outer layers of the bike. This mainly involves looking at where the bike is stored, so as to decide whether a simple dust cover will suffice, or whether a heavier cover is needed to prevent outdoor damage to the bike.
i. Local Weather Consideration
As stated above, the ideal bike cover will take into consideration the local weather, therefore providing the maximum level of damage protection. Covers with secure fastening and elastic straps are best for gusty coastal areas, whereas waterproof seaming is better for areas with a higher chance of seeing snow. Someone who travels to different places with their bike may want to purchase a cover designed to protect from even the most adverse conditions, just to be safe.
ii. Best Fabrics
The best bike covers will feature a high-quality fabric that will provide the utmost protection. However, aside from damage-control, the best fabrics will also contain waterproof seams, will be easy to clean, and will not fade quickly. All of these factors will prevent the wear and tear of the bike by improving the performance of the cover itself.
Outdoor fabrics are designed to withstand the elements, and can usually be simply washed with just a hose. Now, some companies are selling bike covers made with an antimicrobial fabric that reduces the potential for mould, mildew, and fungi to grow on the bike cover.
iii. Fitting the Cover to the Bike
There are different types of designs for bike covers. Some are meant to simply drape over the bike, while others are made to fit a specific model. Therefore, it is important to double-check the size of the cover before purchasing it in order to avoid buying something completely wasteful.
Non-tailored covers still come in different sizes (from small to extra-large), so the size should still be considered even if it is not a fit-to-model design. The ideal cover should cover the bike but not be touching the ground, avoid damage to the cover, and thus allow it to last longer.
iv. Extras
If the bike is parked on the road, it may be best to look for a cover with bright colors or reflective panels, avoiding potential accidents or collisions. In general, ventilation panels may be a good idea, since it is critical to avoid trapping any moisture inside the cover with the bike. Any moisture that gathers on the bike should be able to escape, which is why mesh panelling or any form of ventilation is preferred.
Finally, it may be possible to purchase a bike cover that matches the color or design of the bike itself. This is not absolutely vital, but it might be worth looking into getting a unique cover.