The 7 Best Hybrid Bikes Under $700 with Buying Guide
Biking is getting more popular by the day especially among teens and young adults. As this popularity grows, the variety and complexity of bikes also grow. There are more choices of bikes to pick from apart from the more common racing and mountain bikes.
Each choice comes with its own different features and characteristics and one particular type is bridging the gap between road and mountain bikes by offering a blend of both bikes in one.
This is the hybrid bike. It gives you good performance on the streets as well as a comfortable ride and a simple style on the trail. This bike is ideal for the "weekday ride to work and weekend ride for pleasure" type of person.
However, being relatively new, it can be quite difficult to identify which bike suits you.
​Please note that as an Amazon Affiliate we may earn commission from qualified purchases — thanks for your support!
Quick Answer – Top 7 Hybrid Bikes Under $700
out of stock
as of September 23, 2023 12:06 pm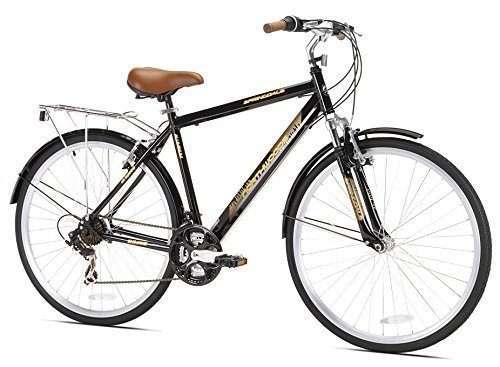 out of stock
as of September 23, 2023 12:06 pm
$422.13
in stock
2 new from $422.13
5 used from $341.30
as of September 23, 2023 12:06 pm
Last updated on September 23, 2023 12:06 pm
Top Hybrid Bikes under $700
Below is a review in detail of the best affordable hybrid bikes.
1. Schwinn Discover Men's Hybrid Bike
This bike defines simplicity and comfort. When riding on the uneven surface, this bike smoothens out the vibrations using its front suspension fork, suspension seat post and padded saddle.
This makes it very comfortable and easy to ride at high speeds. It has the standard 700c size tires which are cheaper to replace because they are easily available as spares.
It has an all-aluminum frame which is strong, lightweight and has a simple design which makes it look like a city bike. The bike features 21 speed SRAM gear shifters which are easy to use for gear changing and are attached to the front and rear Shimano derailleurs which do the actual gear changing as you ride through different terrains.
Shimano derailleurs are known for their superior quality and durability and are used many other high-quality bikes. It has a rear carrier for carrying your office bag, shopping or your picnic bag as you head to relax in the park. For braking, it has alloy four-finger brake levers that are attached to alloy linear-pull brakes.
The brake levers are compatible with twist shifters and can be easily switched depending on your needs.
Pros
It gives you comfort on bumpy surfaces.
21 gears are good enough to ride through hilly terrain.
It has a modern.
The rear carrier is convenient for carrying things.
It has high-quality brakes, improving its safety.
It has an aluminum shell which is strong and durable.
Cons
Its build quality is not very good. It breaks down easily.
It is quite heavy and difficult to ride.
2. Schwinn Network 3.0 Men's Hybrid Bike
This bike features the Schwinn hybrid aluminum frame which is lightweight and designed to make your ride in an upright position. Additionally, its handlebar is swept back and this enables you to ride in the perfect upright position.
Riding in this posture is extremely comfortable because it does not hurt the back. To add on to its comfort, it has front fork suspensions, a suspension seat post and a padded saddle which smoothens out the ride on rough surfaces.
Its gears shift quickly because it has Shimano EZ fire 21-speed shifters which pull and releases the durable Shimano rear derailleur. It has high profile alloy 700c wheels which are strong and coupled with an 18-inch bike frame, they raise the bike to be high enough to accommodate tall riders.
Additionally, you can raise and lower the seat and handlebars to suit your body size. It is equipped with pull up brakes which are safe because they grip strongly on the rim to halt the bike to a stop over a short distance. This bike gives you good value for your money because it is comfortable and reliable.
Pros
It is designed to give you a comfortable ride.
It is durable.
It is adjustable to accommodate riders with different heights.
It has strong brakes which make it very safe.
Its gears make it easy to ride on hilly ground.
Cons
It needs assembling before use.
It breaks down quite often and requires regular servicing.
3. Vilano Diverse 3.0 Hybrid Bike
This one has more of a mountain bike look than a city bike look. This also reflects performance-wise because it offers good performance. It features a hydroformed 6160 aluminum frame and fork which fits 700c wheels.
This frame is lightweight and good for achieving fast speeds. It has mechanical disc brakes on both wheels which can bring you to a stop much faster than pull up brakes.
Disc braking is also more durable and can handle wet and muddy conditions as good as it can handle dry conditions. Most of its gear parts are made by Shimano which is known for its good performance and durable products.
These parts are the front and rear derailleur (Shimano Tourney TX) and Shimano shifters (one with 3, the other with 8). These Shimano shifters give it 24 different speeds which is good for both city and trail performance. This is definitely a good investment considering its low price and extreme performance features.
Pros
Its powerful braking system makes it very safe.
It is durable. It has a high-quality build.
It is light hence easy to achieve fast speeds.
It has 24 speeds which offer better performance.
It has different frame sizes (53cm and 57cm) to accommodate different rider's heights.
Cons
It comes disassembled which is a problem to non-mechanical riders.
4. Northwoods Men's Hybrid Bike
This bike features a lightweight aluminum frame with fenders for both wheels that can fit 700c size wheels. These fenders prevent dirt and mud from splashing towards the rider.
Its 700c size wheels are standard and more common hence rim or tire replacement would be cheap because spares are easily available. It features Shimano gear parts which include a Shimano Tourney rear derailleur and 21 speed Shimano shifters.
21 speeds give you a wide option to enable you to ride up and down hilly terrain easily. These parts are very durable and easy to use. The bike has linear pull up brakes which performer well in stopping the bike and are durable.
It has a rear carrier which is strong enough to carry office bags and picnic bags hence the bike can come in handy in a variety of activities. It has a suspension fork at the front and a padded seat which makes the ride comfortable even on rough ground. This is a money saver because it is practical and affordable at the same time.
Pros
It is lightweight and good for fast speeds.
It suspension makes the ride comfortable.
21 speeds are enough to tackle almost any hilly terrain.
It is very affordable.
Its rear carrier makes it very practical.
It has reflectors for additional safety at night.
Cons
Assembling it for first use can be cumbersome to novice riders.
5. Kent Avondale Hybrid Bike
This bike is basically a handcrafted shell with high-quality parts attached. The shell is a 6061 aluminum frame and fork which is lightweight. It also has aluminum rims which are the standard 700c size.
This aluminum structure is strong and extremely lightweight, making it able to carry heavy people and easy to ride at fast speeds.
It is equipped with v brakes (aluminum pull brakes) which are engaged using a one lever sure stop Anti-Lock braking system. This system gives the superior braking power which reduces braking distance and also reduces skidding.
It has Shimano 21 speed shifters which control the front falcon derailleur and rear Shimano tourney derailleur for easier and faster riding uphill or downhill. It has an ergonomically designed seat and handlebar for additional comfort when riding.
The bike's cassette has a heavy duty design that gives it durability and good performance. It ensures that the chain is kept at the right position at all times.
Pros
The bike is lightweight.
It is durable, having a strong frame and durable parts.
Its anti-lock braking system makes it safe for riding at high speeds.
Its ergonomic design makes it comfortable.
It has two reflectors for good visibility at night.
Cons
Some of its parts, for instance, the brakes require more precision when assembling. This might be hectic for the mechanically challenged.
6. Giordano RS700 Hybrid Bike
This is one good looking bike because it is designed like a road bike. It even has a flat handlebar which is meant for a more aggressive riding experience by giving you a road bike posture as you ride.
It has an aluminum frame with a steel fork which makes it lightweight but strong. This aluminum steel combination makes it very durable.
It has Shimano shifters and derailleurs which are known for their reliability and superior performance. The shifters give it 21 speeds which is good enough for making hill climbing easy. It has the standard 700c wheels which are made of aluminum.
These wheels are aerodynamic and this enables you to ride faster because they reduce drag. It is equipped with linear pull up brakes for braking which provide enough stopping power to make it safe to ride at high speeds. It has a water bottle holder which is convenient for storing water or energy drinks when cycling for long distances.
Pros
It has a light body which makes it easy to ride especially at fast speeds.
It has a good number of gears for easier cycling on hilly ground.
It is easy to assemble.
It has high-quality parts attached (Shimano gears) which are durable.
It comes in two sizes to fit people of different sizes (57cm and 59cm).
Cons
It can break down easily if used on rough roads.
It requires regular servicing.
7. Schwinn Wayfarer Hybrid Bike
This bike is the classic definition of simplicity. It has only one derailleur located at its rear and a single 7-speed shifter. This makes the bike ideal for city use and gentle slopes.
It has steel frame that is designed to give it that city bike look. Its saddle has spring suspension with additional padding for smoothening out vibrations on rough roads.
This makes it comfortable especially over long bumpy distances. It has swept back handlebars which enables you to ride in an upright position which is more comfortable because it does not hurt the back.
It is equipped with alloy front and rear V brakes which give it good braking performance. It has fenders for keeping you clean from mud and dust when splashed by the wheels.
This ensures that you reach at your destination clean as you were before. The bike is equipped with a rear carrier which gives you the convenience of easily hauling shopping or office bags without stress. This is a good bargain for any city dweller.
Pros
Its rear carrier makes it very practical.
It has a rear reflector for good visibility in the dark.
Its handlebars make it very comfortable.
It is affordable.
It has a strong and durable frame.
Cons
It has a low-quality rear derailleur which breaks downs easily.
It may be very stressful for a non-mechanical person to assemble.
Buying Guide & Things You Need to Know About Hybrid Bikes
The hybrid bike is meant to provide the city dweller with a blend of both a mountain bike and a racing bike for light off-road performance and speed on tarmac. Before buying one, there are some things you need to know to identify it so that you do not purchase another kind of bike. These are:
i. Tires
Hybrid bikes normally have smaller and slimmer tires than mountain bikes. Most of them have racing bike tires (size 700c). This makes them good on tarmac but not very well off-road.
When looking for a hybrid bike, ensure that you do not select one with big tires because they are not as fast on the tarmac as the slim tires.
ii. Riding Posture
Most of these bikes are designed to make you ride in an upright posture. They have swept-back handlebars and frames designed to let you ride in this position because the bikes are all about comfort.
Of course some make you ride in a racing bike bent posture, all in the name of giving you an aggressive riding experience but the majority let you ride in the upward posture and this is something that differentiates it from a racing bike.
iii. Weight
This is mostly determined by its frame. A heavy bike usually has a steel frame which drags the bike, reducing speeds. Lighter frames are usually better and are mostly aluminum or carbon fiber built.
These make the riding experience better because you can ride faster with more control.
iv. Suspension
A hybrid bike should give you comfort. It should have at least a padded seat, a coiled spring seat, a suspension seat post or a front fork suspension for smoothing out the riding experience.
However, some sacrifice these, especially the last two in exchange for a more rigid, performance-oriented body. So this basically comes down to personal preference on whether you prefer comfort or higher performance.
v. Brakes
Brakes are crucial for slowing or stopping the bike to prevent accidents. V brakes (pull up brakes) are cheaper and easier to maintain because most of the time you have to change the pads.
Disc brakes, on the other hand, are more expensive but they give you better braking performance in all weather conditions. The choice between the two is down to personal preference and the question you need to ask yourself is what kind of rider you are.
If you are the aggressive one, go for disc brakes. Otherwise, V brakes will do.
vi. Ease of assembly
Most of these bikes are shipped in pieces and assembling them might be a nightmare for non-mechanical people. It would be a good option to buy a bike that is easy to assemble.
Alternatively, you can hire someone to do it for you which would increase the initial cost but get rid of the assembling hustle. Here is step by step guide to assembling your hybrid bike.
Conclusion
Every city dweller who uses any kind of bicycle for any kind of activity should acquire a hybrid bike. These bikes are versatile, durable and have grown in complexity and increased in variety as the user demands change.
Currently, there are many varieties and identifying which one suits you requires you first to know and understand the differences between this bike and the rest of the bikes.
It is also important to understand the different features that define the usability of the bikes in order to select your own from the list of the best hybrid bikes under $700. This review gives you a good picture of how to choose and what to go for to acquire the bike that will surely serve you in all ways.