Best Mountain Bike Computer Review (Non GPS)
In this modern era, riders are blessed to have accessible ride data that can notify a rider with meticulous information while traveling through challenging terrains. This has been made possible with Mountain Bike Computer. You may question the need for a best mountain bike computer with the presence of smartphones and their collective free applications, which offers comparable facilities. But along with mountain bike GPS, the Non-GPS computers are more useful than it seems. It promises to supply extra elements that a smartphone can hardly track. A bike computer can enlighten a rider with detailed data about the journey and the existing body state. Take a quick look at out top 6 cycling computers:
They often play a vital role to enhance a Mountain Bike, by guiding the rider through the rough unpaved tracks, with maximum technical support. With so many current varieties of such accessories in the market, even bike geeks can get confused while choosing one for their mountain bike. In this following article, I will assist you to figure out the perfect match for your mountain bike. I will continue this article with a list of 'Non-GPS Bike Computers', which is listed according to their features not ranking.
What is Mountain Bike Computer?
Mountain Bike Computers are bike computers, which has feature compatible to mountain bikes, besides, they furnish privilege mainly for difficult terrains. Mountain Bike Computers are programmed accessories or gadgets, which are designed to conduct you through unpaved/rough terrain riding and to direct the navigation with an intense aid. It can turn into your holy grail if you can identify the perfect match for your MTB.
They may consist of programs such as the heart-rate reader, cadence, elevation, etc. They can also be a great training tool, and can compare your previous data record to push your training. If you are stern about developing your fitness, a bike computer with a cadence feature will actually facilitate you, in fact, these often provide reading from the rear wheel, permitting them to be worn with a turbo trainer.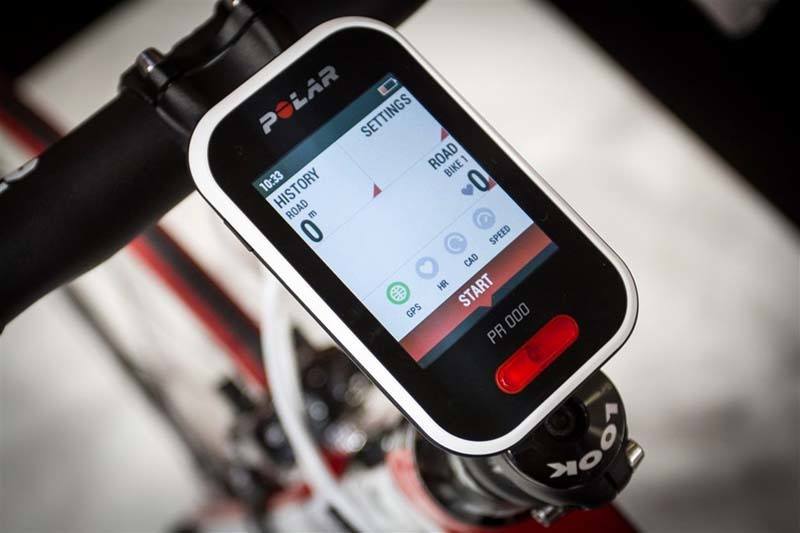 Reviews

 of Best Mountain Bike Computers
Now, I am providing the Best Six Non GPS Mountain Bike Computer Review, and you need to select your best bike computer according to your priorities.
This bike computer is appropriate for any category of bike, doesn't matter if it is s road bike, mountain bike, folded bike or an ordinary bike. It has a petite, curvy-edged, lightweight design with backlight that can either be bet set in green or white color. Besides, it has a durable and water-resistant construction. Its multi-functional wireless facility allows multiple usages. It is also sanctified with an absolute easy-to-read, large LCD. It functions both as a bicycle speedometer and an odometer. This means it can measure speed, distance and riding time. Thus, it pledges you by examining your complete data alone and effortlessly.
This Raniaco Original Wireless Bicycle Speedometer has an automatic stirring, which awakens from sleeping mode with the support of built-in steel ball switch that will shake when receiving signals. So, if you feel the gadget trivially clattering, it is normal. This is an ideal tool that can as well be utilized for hiking, climbing, and other audacious al fresco activities. It will be serving you with multiple purposes which no ordinary bike computer can, at a very affordable rate.
Features at a Glance 
The dimensions are 56mm/41mm/20mm
The weight is 83g
The battery is 12V/CR2032
It has an LCD
It can record traffic speed (SPD)
Can evidence the total traffic mileage (ODO)
Record the single lane mileage (DST)
Trace maximum driving speed (MXS)  and  average driving speed (AVS)
It can exhibit driving time (TM)
Consist of both 12 and 24-hour clock (CLK)
It has as automatic circulatory function (SCAN)
The comparison can prompt ("+" "-")
It has a maintenance alert utility
Can automatically stir from sleeping mode.
Check Latest Price on Amazon.com
The CatEye Strada Digital Cadence Wireless Computer has a ClickTec design along with Strada's minimal size, weight and a solo button processing scheme, which enables an uncomplicated management. This bike computer will help you obtain a standard of measurement of your existing speed, elapsed time, trip distance,  average/maximum speed, heart rate, and cadence. It is escalated with the frame chainstay to permit cadence readings. The CatEye's ISCTec sensor made it probable of the mainframe to provide both speed and cadence reading.
Cateye Strada 410 Digital Wireless Computer is a developed bike computer with Strada's digital wireless communications that can transmit through 30 different ID codes, this mechanism reduces the disorder and interference of your readings while you are riding and allows an effortless riding through any sort of troublesome terrain. Don't think that we've neglected the importance of the Strada heart rate monitor.
The Cateye HRM chest strap that is merged along with the gadget, which will help you to pull your training to some other level. It will prepare you to maximize your pace by identifying your continual output contained by your heart rate zone. And to make this training means possible, the Strada is competent of evaluating readings of 0 to 199 bpm. Now you will be informed if jumping off of the front is achievable on a sustained climb. It is unbelievable that you are getting so many advanced features just under $100. Now, you will be able to enjoy all these functions without harming your pocket.
Features at a Glance 
The processor's body measurement is  46.5 x 31 x 16mm,
The weight is around 20 grams.
The CPU setup is a simple matter, as it is an escalating setup. Precisely, the CatEye includes its tool-free FlexTight bracket that accumulates to either your stem or bars.
The Strada simple yet digitally reliability bike computer with wireless cadence reading.
The 2.4GHz digital wireless can read both speed and cadence
It is virtually interference free
It has Automatic sensor detection to assist you through any terrain, on any kind of bike.
Check Latest Price on Amazon.com
This is skinny, lustrous, lightweight, and stylish Strada Wireless bike computer that includes every possible data you desire. The Strada is capable of displaying statistics such as existing speed, maximum/average speed, trip distance/second-trip distance, total distance, elapsed time, and 12/24-hour time. Therefore, you can appraise your riding workout details and utilize the information for further benefits without difficulty. Again with the ClickTec touchscreen design, it is too simple to employ.
The Strada offers a built-in digital wireless system that helps to communicate flawlessly along with the tool-free wheel sensor. The universal tool-free FlexTight bracket is a blessing that supports the Strada to rise conveniently in effect to any handlebar or stem. Additional features include a programmable odometer, an integrated clock, an auto start/stop function, an auto power-saving mode, a pace arrow, support for two wheel sizes, and a programmable speed unit.
All you need to do is press the screen on the suitable spot and the screen itself will proceed as the button, allowing the display to maximize room and create a shiny appearance. Your preferred mode will be visible at the foot of the display. Meanwhile, your existing speed will be emerged at the peak of a wider form, which makes the calculation more visible. The screen also presents an up/down arrow that compares your recent speed to your average speed.
Features at a Glance 
It can fit up to 22 to 31.8mm handlebars or stems
There are two batteries: CR2032 (1 each for head unit and sensor)
Can fit up to 11 to 55mm fork
Has a front fork speed sensor
Can Transmit distance of up to 27 inches (70 cm)
The average speed reading can be up to 65 miles per hour.
Check Latest Price on Amazon.com
The Padrone has the easiest installation and configuration compared to other bike computers. Besides, it also offers the largest screen with the best possible reading experience compared to other products on the market today. It can assist from downhill mountain biking to the intuitive riding.
The Padrone is a perfect choice for riders who wishes to enjoy a gaze-free, accelerating ride, along with a simple mechanism. The intuitive menu includes speed, odometer, trip distance, average speed, maximum speed, moving time, and a 12/24 clock. You can just click on your desired mode, and the switching will do the rest of the job. It consists FlexTight mounting brackets for Bar/Stem and fork support.
The auto start and stop it offers helps the computers to wake up from sleeping mode as soon as the rider starts riding the bike, and stops when the rider stops, this also enables the auto power mode. Dual tire size fits neatly on any bike. The pace arrow abets the rider to compare earlier measurements with current measurements. The one major drawback this mountain bike computer has is the absence of cadence.
Features at a Glance
It works with whichever tire size.
You can key the odometer setting to convey back the miles from your old bike computer.
Padrone and the CatEye product features the exact same mounting bracket.
It has a the Largest Display
Operates with Analog Wireless
It has a programmable Odometer
The product Dimensions are 4.5 x 1.5 x 3 inches
The weight is 3.2 ounces
It includes two Lithium-ion  batteries
The fork mount size is 11-55mm
Reads Current Speed; Average speed; Maximum speed; Odometer; Trip distance 1 & 2; Elapsed time and a Clock
Handlebar/stem size is 22-31.8mm
It has two types of batteries Battery type the Main unit (CR2032 x 1) and the SPD sensor (CR2032 x 1).
Check Latest Price on Amazon.com
This is a wired bike computer which can read all the possible data; a wireless computer can read. It is mainly used for training purposes. The available reading it provides are speed, average Speed, time, trip time, trip distance, Overall Distance, Calories, Carbon Offset, and a few other features, elapsed time, and odometer.
The recently added functions are calorie consumption and a carbon offset measurement, for further progress reports. The screen contains an easy to read display. The installation is also very obvious and simple. The Computer's clip piece that is located on the handlebars is seized with double sided tape/zip-ties. To connect the computer with your body, for the exact reading.
It has an automatic switch on and ability is, thus, is is awakened itself while on use, as well as, ultimately sleeps to save the battery. But it continues to display time. If you demand simple computer that is supposed to suit your basic fitness data needs, then this is the perfect choice at a very affordable rate. Larger screen /One button operation/ Auto start/stop/Simple tire size setup.
Features at a Glance
The pace arrow lends a hand to show contrast, among the measurements.
Zip Tie Bracket separates values
It has an auto power saving  mode
The battery is Lithium battery CR2032X1
Battery life is approximately of 3 years.
Dimension is 55.5 /37.5/18.5mm
The weight is 28 grams.
Check Latest Price on Amazon.com
This is the wired version of a bike computer, which will not be messy at all, but will be a little expensive compared to other wired bike computers, yet it is cheaper than wireless bike computers. The Sigma's BC8.12 features more than enough functions for an early rider. The BC8.12 has a total of eight functions that include speed, distance, average speed/maximum speed, total distance, clock, riding time and total riding time. It has an easy setup was which is described in exact orders, in the manual. Its highlighting feature is the large screen. The digital readout makes things visible to the riders this the poorest eyesight. The single button is located on the face to be shifted through the functions.
The units can be quickly attached, as well as removed from the handlebars mount, with a simple twirl stroke. It is really straightforward to run the bike computer with the push of a button. The computer can be effortless reset with all programs rearranging at the mean time. The automatic start/stop systems, aid the system to be stimulated when in use. And it also moves to sleeping mode as soon as you are done with the usage, this also saved battery.
With this automatic on/off function you can enjoy a carefree beginning of a journey, and do not have to worry about the end. Furthermore, this bike computer connects to the transmitter without any need for the buttons to be pressed. I will not suggest this bike computer if you are an experienced rider because in that case you may look for detailed features; this bike computer does not incorporate.
Features at a Glance
It has a full digital wording display, widened for better visibility
Has a single button operation
It has a tool-free installation
Durable and water-resistant
Downloadable with optional USB docking station.
Check Latest Price on Amazon.com
Things You Need to Know About Cycling Computer Before Purchasing
I know it is not an easy task, to find the best cycling computers, but it is not that complex either. Your best match for your mountain bikes totally depends on your preferences. You know, Mountain Bikes are categorized according to the rider's inclination. Similarly, the diverse market of Mountain Bike Computers attributes individual processors, which presets according to each rider's requirement. As a rider you may have a purpose of cycling, you may insist on recognizing a data according to your purpose. So your bike computer must serve your cycling purpose that is when you will be able to call it the best.
You must understand the basic functions:
It's pretty obvious you need a bike computer that can assist you even through the unpaved roads. Therefore, there are chances of you to be an adventurous or enthusiastic rider. This means you require a computer containing features such as odometer, trip distance, speedometer, elevation and cadence.
An odometer measures the distance you have traveled.
Trip distance means the total distance recorded before the computer being reset.
Trip time is the total time recorded before the resetting the computer.
The speedometer reads the average/maximum speed suspension.
Elevation means height traveled from the ground level.
Cadence gives the pulse reading.
There are several things you need to consider while purchasing a mountain bike computer. Most importantly, you must know, what is the most important information you demand from the Bike Computer and how is it functional. Do not forget to note down the necessary supplementary programs that can be useful. Focus on the battery life, reliability, screen type plus, whether it supports the multi-bike use and additional mounts. Significantly, you should know your budget even before selecting the preferences, your budget will mainly limit your features.
Details About Bike Computers
Wireless or Wired Computer Bike
A wireless computer consists of all the functions a wired computer provides, for any currently sold higher end computer will have wireless as a feature. The major difference between them is unlike wired bike computers the wireless bike computers do not have a wire running around your bike. This is a negligible issue only if you have a front wheel speed sensor. If you have added cadence or use a generator hub, then the wiring paths can get messy. If your budget matters, you are obliged to know that the wired mountain bike computers are cheaper.
Digital Wireless and Analog Wireless Mountain Bike Computers
The basic difference between digital and analog wireless bike computer is, an analog bike computer needs to be manually set with physical quantities that change continuously. Whereas, digital wireless bike computers have automated mainframe. It is tricky to state the best between analog wireless mountain bike computers and digital wireless bike computers. A digital wireless bike computer tends to provide an improved frequency response as well as reduced radio interference. There are some advanced analog wireless mountain bike computers, which are designed in such manner, that it is parallel to digital wireless mountain bike computer.
Expediency of the product
These are necessary information about the battery life. The start-up time (I will suggest the automatic startup programs. So that you are more relieved while starting, and the computer can record data on its own), the set-up (all the bike computers need to be set, so know the instruction, installation facilities, etc.).
Interface
The Interface here means the technique an individual product requires to be handled. This may embrace a list of the features of a bike computer. You need to figure out the most convenient features that will make the bike computer operate to its best usage. So, you need to be well informed about whether it has buttons on a touch screen; automatic on/off mode; power saving mode; single press navigation and navigation procedure. These acquaintances will help you to identify the best mountain bike computer. Keep in mind, what are the facilities you want while on a rough journey, that will be an ease to navigate. Start
Features
Different bike computers have a different variety of features, which may also affect the price. This can turn into a complex game if you do not recognize the features. Acknowledge features that will be useful, this decision, will depend on your riding experience. The more skilled you are, the better you know about different preset functions and their use. Purchasing a complicated bike computer at the first may increase your confuse and complicate the usage.
So you need to take care of your preferences and decide what will suit your journey, as well as facilitate your mountain bike motion.
Conclusion
Do not let the variety of bike computers confuse your decision. Every product is supposed to persuade you, but the only thing you decision needs to be influenced by is your constraints. At the beginning of the article, I advised you to note down your essentials and crosscheck the features and functions. All these products on my list are in your budget, but you should choose a product depending on your flexibility or rigidness of your budget. And hope this mountain bike computer review helps you.
You May Also Like to Check