Best Mountain Bike Elbow Pads with Buying Guide
Protecting your body is extremely important especially if you are into mountain biking, and nothing keeps your arms safe like mountain bike elbow pads. Although your MTB is rugged to withstand the harsh conditions, you might be subjected to several falls every time your bike hits upon an obstacle. As you speed along the trail, avoiding these obstacles is not easy. Dealing with falls and injuries can be avoided if you invest in the right gear.
The Best Mountain Bike Elbow Pads are designed to protect your body and minimize injury in case you accidentally fall. Think about all the times you had to step off your bike to treat a wound. This must have been extremely inconvenient whether you are riding alone or with a group. Not only will you be able to ride safely, but you can also get on your bike faster in case you hit the ground thanks to the best elbow protection.
​Please note that as an Amazon Affiliate we may earn commission from qualified purchases — thanks for your support!
Quick Answer – Top Mountain Bike Elbow Pads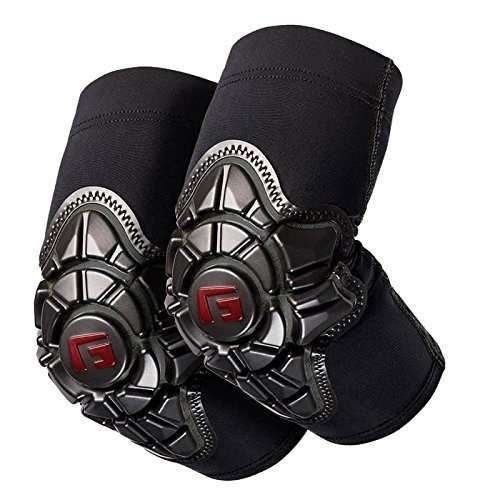 out of stock
as of November 24, 2023 12:08 am
in stock
71 new from $38.90
2 used from $32.71
as of November 24, 2023 12:08 am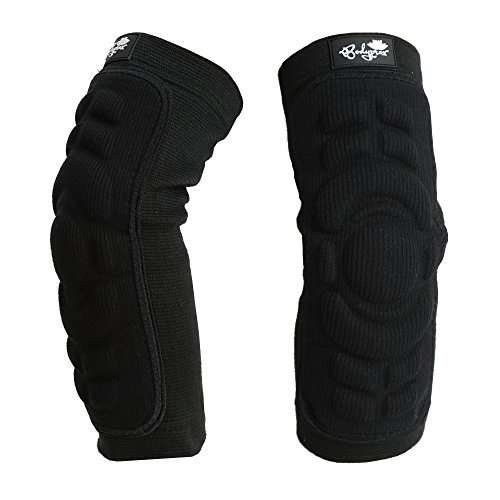 in stock
as of November 24, 2023 12:08 am
Last updated on November 24, 2023 12:08 am
Elbow pads are crucial regardless of your mountain biking experience. A lot of people think that just because they are experts, they can get away with not wearing the right protection. But this is not true. Even if you are a keen mountain biker, you will never be able to control the conditions on the trail. All you can do is to be properly equipped for your adventure. In this article, you will find useful information about the best elbow pads that you should add to your mountain biking gear and how to pick the best ones.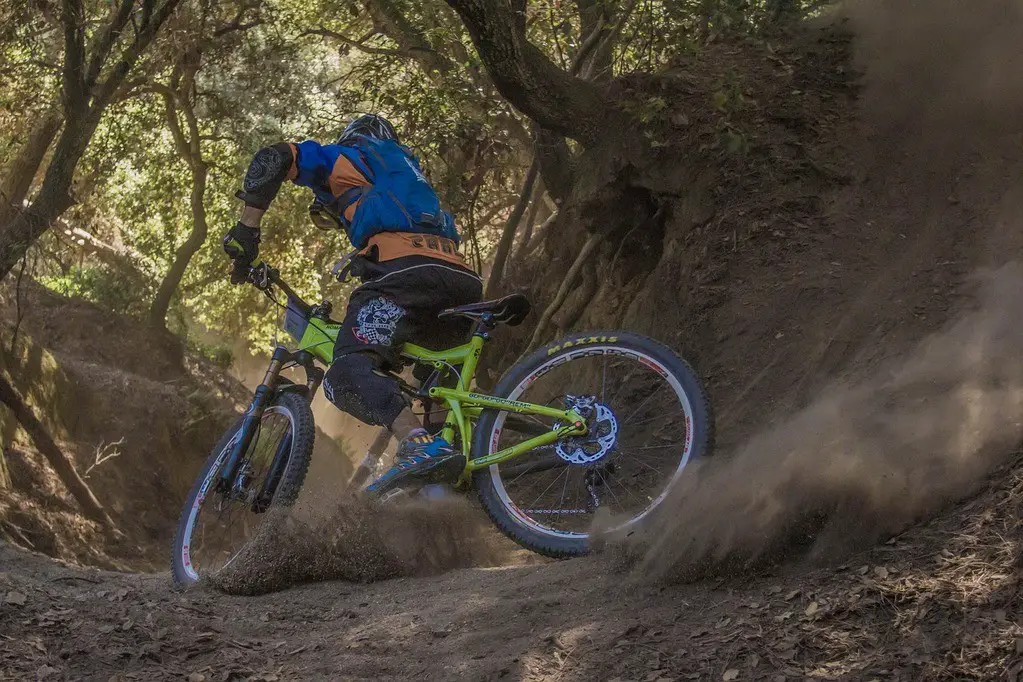 Reviews of the Best Mountain Bike Elbow Pads
How can you pick the right elbow pads? We know that the buying process can be overwhelming especially with a lot of products on the market. They might look similar but the truth is that there is a big difference between good and bad elbow pads.
In this section, you will find detailed reviews about some of the best elbow pads on the market. Just browse our list and read it carefully to find the most suitable pair that you can add to your gear.
1. G-Form Pro-X Elbow Pads – Youth and Adult
If you want to pick the best MTB elbow pads, then you can definitely consider the G-Form Pro-X Elbow Pads. These elbow pads use the latest technology to protect your elbows from an impact. Whether you are an avid biker or an amateur still taking your first steps in the world of mountain biking, you need to pack them for your upcoming trip. They are made of special and flexible foam that hardens upon impact. This means that it will absorb almost 90% of the shock in case you accidentally fall and hit the ground. Even when you are riding on a rough trail, you know that your elbows will be perfectly protected.
Although these pads are designed to provide maximum protection, they are not bulky. As a matter of fact, they feature a sleek design that makes them very convenient to wear under your sports gear or any other piece of clothing. The foam pads are mounted on compression fabric that is very breathable and moisture-wicking. This means that you can wear your elbow pads all day long without feeling any kind of discomfort. Moreover, the flexible fabric will not restrict your movement when you are on the bike. It secures the elbow pads in place so they don't slip.
In addition to being very easy to put on, they are extremely easy to care for. They are machine washable, so you can simply take them off and throw them in the washing machine to make sure that they are clean and ready for your upcoming adventure. They come in 2 different ranges; one for adults and the other for youth. They also come in various sizes and colors; allowing you to pick the pair that suits you the most.
Pros
Flexible foam elbow pads that stiffen upon impact.
Sleek design that you can wear under or on top of your clothing.
Breathable moisture-wicking compression fabric.
Very easy to put on and take off.
Don't restrict your movement.
Machine washable.
Cons
Some users found that they are too long. But they can be easily folded.
2. POC Joint VPD Air Lightweight Mountain Biking Elbow Pads for Men and Women
POC produces a great array of mountain biking protective gear, and their Joint VPD mountain biking elbow pads are no exception to their high-quality standards. The VPD fabric is both versatile and strong while remaining lightweight. This means you can tackle the trails on your mountain bike without bulky or uncomfortable pads. These are truly high quality pads for your elbows which will protect you on your MTB adventures.
The POC Joint VPD elbow pads offer great protection and are also very stylish. They don't stand out, but they are sleek and get the job done. With adjustable straps and a stretchy feel, these elbow pads won't slow you down at all. Even in larger crashes or falls, the Joint VPD's offer great assurance of cushioning and reduction of impact. We love these overall and definitely recommend them highly.
3. Fox Racing Launch Pro Elbow MTB Guard
They are designed to provide maximum protection in case of a fall or an accident. The hard shell is further fortified to protect your elbows to the max. Moreover, the shell is padded for a plush feeling in case you fall down. This means that it will absorb the shock perfectly to minimize injury and pain.
The outer shell of these pads is made of Kevlar to protect against scratches and scrapes.  No matter how hard you fall down, you will be able to get on your bike fast because these pads will be there to protect you. They are perfect for your mountain bike or for any other activity where you are likely to fall. You can easily get them on and take them off thanks to the wrap-around hook and loop closure. They will not slip off your arms because of the internal silicon strap.
The body of these pads is made of perforated neoprene that is designed for all-day wear. They are very comfortable to wear as they are breathable and lightweight. They are the perfect fit so they won't bother you when you keep your arms in the riding position. They come in various sizes to provide a snug and appropriate fit.
Pros
Ergonomically designed elbow pads to protect in case of falls and accidents.
Outer lining to minimize scratches and scrapes.
Comfortable fit that doesn't slip.
Perforated neoprene for maximum breathability.
Easy to put on and take off.
Cons
The lining is rather stiff. It can cause some friction if you wear it directly on your skin.
4. Elbow Protection Pads 1 Pair, Elbow Guard Sleeve
A lot of users believe that these elbow pads are exceptional. Although they are designed to provide the ultimate protection, they will not restrict the movement of your arms. They feature strategically placed foam that will protect your elbows in case you fall off your mountain bike, but at the same time, you will not feel that your arms are not free to move.
The pads are made of durable abrasion-resistant fabric. This will protect the skin of your elbows from scratches, scrapes, and other injuries in case you hit a sharp object. Although these elbow pads are very lightweight, nothing can penetrate them. The foam is placed right where you need it to maximize your performance while protecting your elbow.
The compression fabric is very comfortable to wear. It is also very easy to put on and take off after your mountain biking adventure is over. They are not bulky so they won't weigh you down. They are the perfect elbow pads that will let you move freely. They can be cleaned in the washing machine.
Pros
Pads made from compression fabric.
Strategically placed foam that protects your elbow in case of impact.
Allow your arms to move freely.
Easy to put on and take off.
Machine washable.
Cons
5. Fox Racing Launch MTB Elbow Pad
When you are looking for a pair of elbow pads, you want to make sure that they are made to handle the rough conditions on the trail. They have to be durable and strong without restricting the movement of your arms. Even if you have to spend long hours on the bike, you should still be able to wear your elbow pads comfortably.
These amazing elbow pads feature a hard shell and an elbow cup made of polyethylene and nylon to protect your elbow in case of an accident. With these pads, you can hit any trail knowing that you will never be subject to annoying injuries. The antimicrobial fabric on the inside is very comfortable and convenient to wear as it doesn't scratch your skin.
The bio-foam chassis makes them extremely comfortable to wear. It is asymmetrical to cater for the natural curves of your body. You can now wear your flexible elbows all day long. They will absorb the shock and minimize the pain in case you accidentally slip. The forearm cross strapping system is very easy to use so you can easily wear them on your own. Moreover, you can rest assured knowing that they will not slip or move to minimize discomfort. The straps are adjustable for the most comfortable fit. These are the best elbow pads to wear whether you decide to wear them on top of your clothing or directly on your skin because they are very lightweight.
Pros
Hard-shell elbow cup to absorb shock.
Antimicrobial interior fabric lining.
Biofoamasymmetrical design to follow the curves of your arms.
Easy to put on and take off.
Cross strapping system to keep them in place and to provide the perfect fit.
Cons
How to Pick the Best Mountain Bike Elbow Pads?
Before you decide on a pair, there are a few features that can help you with choosing the Best Mountain Bike Elbow Pads. Paying attention to these details will help you buy a durable pair that will protect your elbows in case of an accident.
i. Shock Absorption
The main purpose of your pads is to protect your elbows in case of an accident. This means that they should feature foam or any other material that will protect your body in case of an impact. Make sure that your elbow pads are not thin as this means that they will not protect your elbows the way they should.
ii. Protective Fabric
In addition to protecting the bones in your elbows, you want your pads to protect the skin. How many times did you have to end your mountain biking adventure because of a nasty scratch? Scratches and scrapes should be avoided especially on rough trails to avoid infection. A good elbow pad will protect the delicate skin on your elbows. This will allow you to enjoy your mountain biking adventure regardless of how challenging the trail seems to be.
Pay attention to the fabric of your elbow pads. It should be breathable because you are likely to wear your elbow pads for long hours. Some products feature a comfortable internal lining. This will absorb the moisture to help you avoid uncomfortable skin infections.
iii. Ergonomic Design
It is very important to pick a pair of pads that cater to the natural curves of your arms. Our arms are asymmetrical. If your pads are, they will be very uncomfortable to wear. Moreover, they will prevent you from moving your arms freely and you won't be able to spend all day wearing them.
The best elbow pads allow you to bend your arms and stay in the riding position without scratching the skin on your arms. They also help you maneuver the bike comfortably because they will not restrict your movement.
iv. Easy to Use
You shouldn't seek help if you want to put on your elbow pads or to take them off. Pick a model that you can use on your own as this will encourage you to use it every time you get on your bike. Some products can be easily adjusted for a snug fit. Your elbow pads will not slide or move as you spend long hours on your bike. Straps are very convenient to use because you can easily adjust them to fit your arms perfectly.
Conclusion
Buying the right gear for your mountain biking adventure can be a real dilemma especially with a lot of products on the market. Protecting your elbows will help you enjoy your time on your bike and will allow you to get on your bike real fast.
Investing in the Best Mountain Bike Elbow Pads is a wise decision. You will not have to worry about nasty infections or broken bones. At the same time, they will not restrict your movement or deprive you of enjoying your MTB. Just make sure that you pick the right pair for your upcoming mountain biking quest.