The 10 Best Mountain Bike Shifters with Buying Guide
Understanding the components of your mountain bike is important. You need to understand what each part does, how it works, and how it can be replaced to keep your MTB in great condition. A bike shifter controls the gearing mechanism on your bike. Shifters move the bike chain between the chain-rings and the cogs on the rear cassette. These shifters are found on the handlebar for easy maneuver.
Quick Answer – Best Mountain Bike Shifters
in stock
2 new from $90.13
1 used from $49.85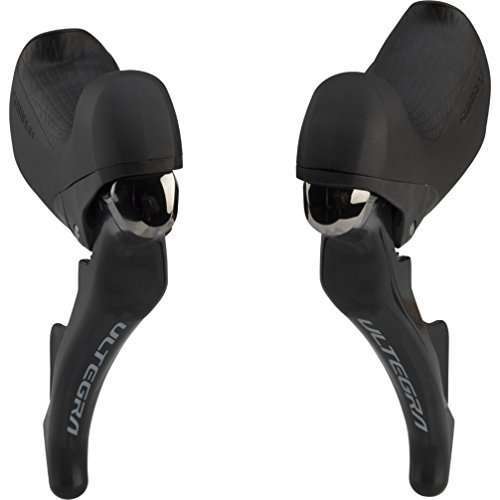 in stock
17 new from $347.63
Last updated on July 30, 2021 7:23 pm
Selecting the best mountain bike shifters are essential for an excellent MTB experience. They help you maintain a steady speed regardless of the terrain. This will help you save your energy as you can pedal for a longer period. They automatically make your mountain biking experience more fun.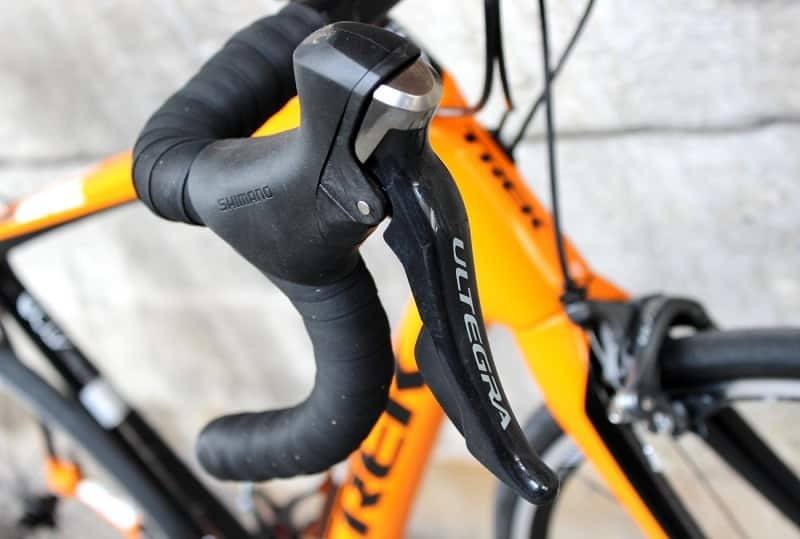 Finding the best MTB shifters is not a difficult task if you know what to look for. Even if you aren't a professional mechanic, you can pick the most suitable shifters for your bike. Here, we review some of the best products on the market and we also explain how to pick the most reliable shifters for your next mountain biking adventure.
Reviews of The Top 10 Mountain Bike Shifters
Not all shifters are alike. Good shifters will allow you to maintain a good cadence. You won't have to push through hard gear which can drain your energy fast. You need to make sure that your shifters are reliable enough so that you don't miss a gear, especially on a challenging trail.
We decided to test some products, trying to find the best bike shifters. In this section, you will find our honest opinion as we mention the pros and cons of each type in our reviews of the best mountain bike shifters. This will give you the information you can rely on for a good purchase decision.
1. SRAM X1 11-Speed Trigger Shifter
The SRAM X1 are arguably the best on the market at their price point. With these shifters, you can rest assured that you will never miss a gear. Thanks to the zero loss engagement, you will enjoy fast and effortless shifting. Gears engage instantly with no loss of movement. These durable lightweight shifters feature a sturdy aluminum cover and forged aluminum pull lever that is guaranteed to deliver the best performance as you shift gears.
The designers made sure that these shifters are going to deliver precise and smooth shifting. With precise shifting, you will never miss a gear whether you are going up or a down a rough trail. Trigger shifting allows you to excel on challenging trails. It guarantees the accurate movement of your derailleur without causing any hand cramping. Shifting up to bigger gears will never be a tiresome job because these shifters are going to guarantee easy shifting.
These shifters come with an X-compatible clamp that eliminates bar clutter. You can attach everything within reach for better performance. They are by far more resilient and more affordable than carbon fiber shifters but match their first-class performance.
Pros
Strong aluminum body with aluminum pull lever.
Zero loss engagement for instant gear shifting.
Easy trigger shifting.
Switching gears is easy and effortless.
X-compatible clamp to minimize bar clutter.
Cons
Some users found them difficult to install.
2. SRAM X5 9-Speed Trigger Mountain Bike Shifter Set
Are you looking for a pair of shifters that will last a lifetime? Look no more. These amazing 9 speed shifters are very smooth and easy to use with no mechanical drag as they will work smoothly with your cogs. They are made of durable metal and are ergonomically designed for fast and guaranteed shifting.
These shifters are among the ones that you can easily install and completely forget about them. All you need is your thumb to shift gear in a fraction of a second. You can even upshift by operating the small lever using just the knuckle of your thumb. These shifters take the term "short strokes" to a whole new level. This means that you would still be able to hold your handlebars normally with your focus 100% on the trail you are exploring.
The simple yet reliable design of these shifters allows you to enjoy fine grain adjustments. They are not as expensive as other models but they are extremely reliable. They are the perfect fit for any handlebars you have on your MTB.
Pros
Long-lasting metal shifters for smooth shifting.
Affordable shifters.
Easy installment with the ability to make fine adjustments.
Fast shifting between gears.
Knuckle shifting to keep your hands on the handlebars.
Cons
These shifters are a bit heavy.
3. SunRace Mountain or Folding Bike Twistshift Shifter
These are the lightest and the most affordable shifters on our list. Nevertheless, they do the job just like high-end products allowing you to enjoy your time on the trail without having to break the bank. If you are not a professional mechanic, you'd definitely love how easy to use and install these shifters are.
If you are tired of pricey shifters, then you can install those on your mountain bike because they are Shimano and Sram compatible. They come with all the needed instructions in addition to high-quality galvanized cables for the best performance on the trail.
These are the best shifters for your beginner's bike because they are very easy to use. They can also be used on your kid's mountain bike, opening up their eyes to a new world of adventure with the family.
Pros
Very lightweight design.
Affordable low-profile shifters.
Suitable for beginners and kids' bikes because they are easy to use.
Shimano and Sram compatible.
Come with high-quality cables.
Cons
These are not designed for heavy duty riding.
4. Shimano Ultegra 6800 STI Shifters
The Ultegra 6800 STI shifters offer a refined mountain biking experience for riders who want to experience durability. They are made of dual-compound rubber composite for reliable performance. Unlike the bulkier models, these shifters are noticeably slimmer for easy access and shifting. These sleek shifters are made of durable carbon fiber. They feature an outward curve design that is suitable for most hand shapes.
The shifting mechanism is almost perfect. The lever stroke has been shortened almost by 13% which means that you don't have to go the full length to push the lever. This guarantees faster and more reliable shifting. This also reduces the effort when you are mountain biking on a challenging trail. With minimum effort, downshifting becomes as easy as upshifting. The cables are polymer coated for flawless performance with almost zero mechanical drag.
The ergonomics of these shifters are precise and accurate. You are less likely to miss a shift as you get feedback from the lever every time. They also look clean and crisp as they are perfectly designed to improve your mountain biking experience.
Pros
Durable carbon fiber shifter.
Polymer coated cables for fast shifting.
Shorter lever strokes.
Outward curved design to suit most hands.
Crisp upshifting and downshifting.
Cons
Although there is little lever resistance, you still need to do that extra effort for the big cogs.
5. Shimano Dura-Ace Barend Bicycle Shift Lever
These bike shifters are lightweight, durable and quite affordable. In a Shimano mountain bike shifters comparison, these definitely stand out because they are very well made. These 8-speed shifters can handle a double or triple crankset. They are very easy to use and are quite reliable. They are the best to rely on when you are trying to explore challenging trails.
The front friction makes shifting super easy. The rear can be used indexed or in friction mode which allows you to use your shifters in any setup. Users love the accurate and reliable shifting they get with these lightweight shifters as they prevent mechanical drag for the smoothest experience. They interface well with the derailleurs for best performance.
The best thing about these shifters is that they are very easy to install. You don't have to be a professional mechanic to get the best shifting experience for your bike. Moreover, you get to enjoy the easy calibration.
Pros
Affordable, lightweight shifters.
Easy installation and calibration.
Work with a double or triple crankset.
Front friction and back indexed or friction shifting for a smooth shifting.
Cons
The cable housing is too short. You need to get a longer one especially if you are a tall rider.
6. Shimano Acera SL-M310 Rapid Fire Shifter, Left
This is one of the best 7-speed mountain bike shifters because they are lightweight and extremely reliable. These shifters are very affordable, yet are designed to provide miles of accurate and smooth shifting. They are the best shifters to save your effort and help you maintain a steady speed regardless of the nature of the terrain.
These sturdy shifters are made of durable steel that is designed to withstand rough handling. The body is rugged enough to help you shift gears for as many miles as you desire to go. The bracket is made of painted aluminum and the base is made of long-lasting resin.
These shifters are made for flat or riser bars with an ergonomic thumb level. Your fingers will not get pinched or hurt as you are trying to shift gear on a challenging trail. They also come with an index finger trigger for the easiest shifting experience. Moreover, they come with an optical display that tells you exactly which gear you are in. They are the perfect shifters for various hand shapes.
Pros
Budget-friendly shifters.
Aluminum painted bracket.
Accurate and precise shifting.
Suitable for flat and riser bars.
Ergonomic thumb lever.
Cons
Installing these shifters is not very easy.
7. Shimano 105 ST-5800 11-Speed STI Shifters
These Shimano shifters feature the same high-class shifting technology from the Dura-Ace line but in a much more affordable package. They are ergonomically designed to suit mountain bikers who have small hands. Every time you shift gears, you can rest assured knowing that your finger and thumb are going to be safe. You also don't have to go the whole length to shift to the next gear.
These shifters provide smooth and precise shifting in addition to more power when you are riding on challenging trails. They are exceptionally slim and are not bulky like other models. This makes them stylish in addition to being highly practical and functional. They feature a curved arc that follows the natural contours of your hand. They also feature an inward shift stroke whose distance has been reduced for precise gear shifting.
These shifters come with polymer coated cables. They can also be easily adjusted to fit all hands. They are extremely reliable and durable because they are designed for the best performance when riding on the hoods.
Pros
Sturdy alloy shifters.
Polymer coated cables.
Slim design.
Curved arc for reliable performance.
Inward shift stroke with reduced distance for precise shifting.
Cons
These shifters are heavier than other models.
8. Sram MRX Comp Twister Mountain Bike Shifter
Whether you are an avid mountain biker or still taking your first steps in the world of biking, you can definitely depend on these shifters for the best performance. These shifters are extremely durable and will provide fast and precise shifting whether you are enjoying your time on gently rolling terrains or a hardcore downhill. You get the same crisp performance every time you try these shifters because they are very well made.
These rear shifters are just the perfect size for your hands. The soft density grip will allow you to shift your gears with no hand cramps. They are very well made although they are lightweight. They also come with a long cable for easy installation. It comes preinstalled so you can start using your shifters out of the box. Moreover, they are exceptionally easy to adjust.
These shifters are the best for people who don't want to break the bank. They are perfect for beginners and for people who want low profile shifting with amazing results every time.
Pros
Low profile and affordable shifters.
Extremely durable construction.
Lightweight.
Soft density grip.
Fast shifting.
Cons
Shifting pace is not consistent. Some shifts take two clicks while others can take only one.
9. Shimano Acera SL-M390 3 x 9 Speed Trigger Shifters NEW
These are great shifters made of aluminum and plastic. They are very sturdy but they are lightweight and sleek so they won't cause any clutter on your bars. These trigger shifters are the best for fast and reliable shifting when you are going on a rough trail.
These are the perfect shifters for 9-speed bikes because they are they are fast and precise. You get an immediate response every time you use them although they are quite affordable. If you are about to climb an elevation, all you have to do is to press these shifters for 3 seconds for a quick downshift. This can hammer down 3 sprockets at one go.
They are very rugged from a quality standpoint. These are designed for serious riders who tend to use their MTBs on rough trails. They come with a reliable cable for easy and fast installation. They look basic but they will never disappoint you.
Pros
Durable shifters.
Sleek design.
Trigger shifters for a quick downshift.
Rugged for rough performance.
Easy to install.
Cons
They don't come with cable housing.
10. Shimano Rapidfire Plus SL-M670
Shimano is one of the leading manufacturers in the field of mountain bike accessories. They put a great emphasis on the quality of their products and these shifters are no exception. They are well made with an improved ergonomic design to accommodate the natural contours of your hand. The ergonomic design allows you to enjoy the reliable and exceptional performance every time you decide to switch gears on the trail.
The shifting operation is easy so you can have your whole focus on the trail ahead of you. Thanks to the 2-way release, you can now enjoy shifting from various riding positions. They click right into place and can drop 3 gears at one go with one quick swift. Using your finger and your thumb, you can alternate between upshifting and downshifting to maintain the right speed for your trail. Shifting is clean with no mechanical drag that can affect how your mountain bike will function on different terrains. If you are looking for the best bicycle thumb shifter, then this is definitely the one to consider.
The shifters don't need any adjustment before delivering the best performance. They will work as great with 2X and 3X setups to accommodate your bike regardless of its type. Moreover, the shifters come with an optical display that shows you what gear you are in. If you don't like that, you can replace the display with a face plate which makes the shifters lighter and less bulky.
Pros
Ergonomic design that puts less pressure on your hands.
Alternating between index and thumb motion for fast upshifting and downshifting.
Shifting from various riding positions.
Works with 2X and 3X setups.
Come with an optical display which can be replaced for a less bulky design.
Cons
They don't come with cables.
[/su_list]
How to Choose the Mountain Bike Gear Shifters?
Shifters allow you to enjoy your ride because they can make your pedaling relatively easier regardless of the terrain. This is why you need to make sure that you are picking reliable shifters to ensure your safety on your mountain bike. Here are some features that you can look out so you can buy the Best Mountain Bike Shifters:
i. Compatibility
Before evaluating a pair of shifters, you need to make sure that they are compatible with your mountain bike's derailleur. Some models can be quite compatible with any type so that you won't worry about their performance. Make sure that your rear shifters will accommodate the speed of your mountain bike; otherwise, you won't get precise and crisp shifting as much as you wish to.
ii. Material
Bike shifters are either made of metal or carbon fiber. Alloy or metal shifters are less expensive and might look basic. But they are good enough for reliable shifting. They are the best shifters if you don't want to spend a lot of money. Carbon fiber shifters are more expensive but they are very lightweight and usually less bulky. If you want to keep your handlebars looking neat and elegant then you might want to invest in those.
iii. Friction or Indexed Shifters
Friction shifters are not that popular because they are not very simple to use. You need to rotate the shifter until you get the gear you need to pedal effortlessly. This requires some prior knowledge of mountain biking gear.
Indexed shifters are more common nowadays because they are very easy to use. All you have to do is to click a button on the shifter, and it will automatically shift to the next gear.
iv. Thumb or Twist Shifters
Twist shifters are less expensive but they are still reliable. You can use them if need something that is straightforward to use. You can just rotate them until you shift gear. Thumb or trigger shifters allow for faster and neater shifting. These are more expensive but are meant to be more accurate when you are riding your bike. They are popular because you can simply use your thumb to shift to larger sprockets and your index finger to downshift. Unlike twist shifters, one-click usually means one shift in gear. As a plus, you get to do that while keeping both hands on the handlebars.
Conclusion
Shifters are crucial components of your mountain bike gear. Although they need nothing but your hand power, they feature an outstanding engineering technology that can allow you to enjoy your mountain biking experience with minimum effort no matter how challenging your trail might seem.
Buying the Best Mountain Bike Gear Shifters requires doing some research. You need to make sure that you are getting reliable shifters that won't disappoint you on the trail with quality craftsmanship as the first feature to consider. With the right shifters, you are going to experience mountain biking like never before.