Ecotric Dolphin Fat Tire Electric Mountain Bike Review
When looking for a sleek off-road electric mountain bike that is easy to use and virtually silent, the Ecotric Dolphin Fat Tire Electric Mountain Bike is a great choice. This bike is budget-friendly and is portable with its foldable design option. Let's take a deeper dive into some of the Ecotric Dolphins' features. 
Ecotric Dolphin Review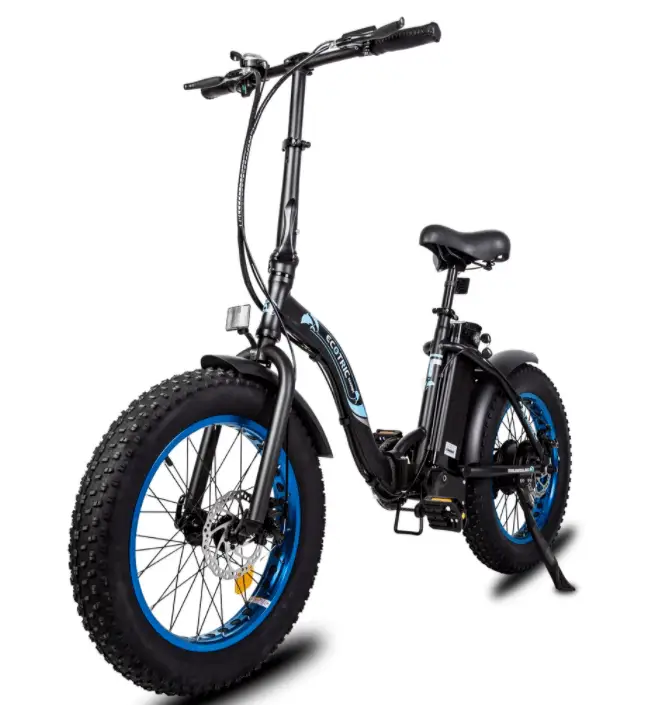 Frame
The Dolphin Fat Tire Electric Bike is made for off-road adventures as well as urban treks. Being that this is a fat tire e-bike, it can handle the toughest terrains. The frame itself is made of lightweight yet durable aluminum alloy which will not easily break or bend when you're riding over rough and bumpy trials. To help protect you from water and mud, this bike comes equipped with front and rear fenders which also provide a sporty look that is bound to catch some eyes. One of the best features that help this bike stand out above the other fat tire e-bikes on the market, is it's foldable frame making it super simple to fold up nicely in your trunk before heading home. 
Fat Tires
This Ecotric Electric Mountain Bike comes equipped with two 20" x 4.0" fat tires that give you plenty of control on almost any surface, soft and hard. Sandy, snowy and muddy trails or streets are no problem for this bike, as you can ensure that you'll never get stuck or sink with its big wheels and electric motor. This bike can ride almost anywhere and will give you a comfortable ride that you can keep control off no matter the terrain. 
Gears and Brakes
The Dolphin Fat TIre Mountain E-bike comes with 7 gears coupled with a pedal assist, making it easy for you to tackle steep hills and trails. Being that it is an electric bike, you will get that needed push to get you up where you're going once you cannot pedal any further. When using the e-bike around town, the on-demand throttle will work great to help support your ride. Even though you'll be in the bike lane, having a top speed of 20 MPH will still get you where you need to go in a good time. The Dolphin Fat Tire E-bike comes equipped with mechanical disc front and rear brakes to ensure that you will always be able to stop. Whether on wet streets or flying down steep hills, this bike's 160mm rotor enables plenty of braking power to allow you a clean stop that will keep you safe from harm.
Battery and Motor
The Dolphin Fat Tire Mountain E-bike has a motor that will power the bike up for up to 23 miles. This motor is located in the rear hub so it won't interfere with your pedaling at any time. To fully charge this battery, it'll take about 5-8 hours so make sure to plan your trips accordingly so you won't be left stranded with no power in your motor. The battery life lasts about 400 – 600 cycles per charge and won't need to be replaced for a good few years. 
Another essential feature for this bike is that it comes with a smart LED display which tracks battery life, your speed, and the distance you traveled. This becomes a key component because you'll know way ahead of time when the battery power is running low and you'll need to go and recharge it. And as mentioned before, this bike is foldable, making it super light and easy to store in your vehicle. 
Cons
Just like all bikes, the Ecotric Dolphin E-Bike has its share of cons. Here are some of the potential cons that we've noticed:
Maintenance
After test driving the Dolphin Fat Tire Bike, our team noticed how the rear hub motor can tend to overheat. This is usually caused by serious offroading treks. After about 45 – 60 minutes of consistent riding with the motor, the bike will need a cool down period to allow the motor reboot itself. This will take a quick 5-minute break and the bike should be good to go after that. Another problem we found is that finding spare parts might be a bit tricky for this bike. There's only a few dealers across the country which ultimately yields you as the rider to pay higher maintenance costs.
Charge Time
Another setback we've found for the Ecotric Dolphin is its charge time. It can take up to 8 hours to fully charge this bike's battery which isn't the most ideal situation. These types of e-bikes do tend to take that long to charge which can get annoying for the more consistent riders. 
Conclusion
The Ecotric Dolphin Fat Tire Electric Mountain Bike is an affordable, adaptable, and all-around fun to ride bike. This bike comes equipped with fat tires that really give it the option to ride on almost any terrain type. The motor found in the rear hub gives it that extra push to get it over any obstacle and ensure you as the rider a comfortable ride. It's battery life will keep you going for miles on end and not have you worry about getting stuck without the motor. 
What really makes this bike stand out is its multifaceted design. Ecotric designed this bike to be able to handle rough, bumpy trails but also take on city streets without any problem. It's foldable design allows you to take in anywhere without taking up too much space in your vehicle. This also becomes a key factor when storing this bike when it is not in use. Whether you're looking to get an electric bike for off-road cycling, camping, or even just going to work, the Ecotric Dolphin Fat Tire Electric Mountain Bike is a great choice bike to get you where you need to go.
FAQ
What kind of battery is equipped with the Ecotric Dolphin Fat Tire Electric Mountain Bike?
The Dolphin Fat Tire E-bike comes equipped with a 36V 12 AH battery for the motor.
How many gears does the Dolphin Fat Tire Mountain E-bike come with?
The Ecotric Dolphin Fat Tire Electric Mountain Bike comes with 7 Speed Shimano gears that are great to handle any uphill or downhill trails.
How much does the Ecotric Dolphin Fat Tire Mountain E-bike weigh with the battery?
The Dolphin Fat Tire Electric Mountain Bike weighs about 55 lbs with its battery.