Garmin Edge 520 Review – Best Bike Bundle Computer
Most modern cyclists will be familiar with bike computers. These devices can turn a casual ride into a tech-fuelled analysis of the rider's ability and health. But with so many on the market, it can be hard to narrow it down to one multitasking device.
The Garmin Edge 520 Bike Bundle Computer is an upgrade from the brand's previous 510 model, so what makes it different to its predecessor? Our Garmin Edge 520 review will give you the scoop on what's been added to the device and whether existing users of the 510 should be considering an upgrade.
​Please note that as an Amazon Affiliate we may earn commission from qualified purchases — thanks for your support!
Garmin Edge 520 Review with Detail Features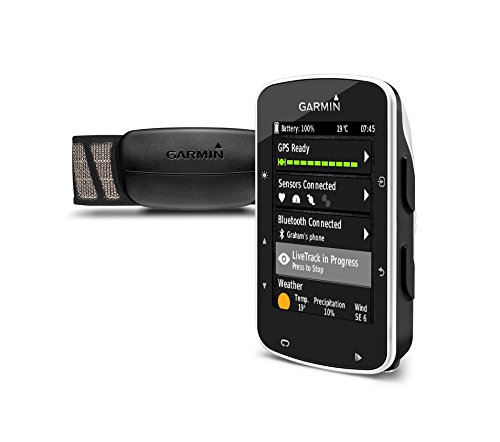 Bundle
The Garmin Edge 520 is available as a single unit, but if you're looking for great value and a wealth of helpful add-ons, it's worth taking a look at the bundle.
The bike bundle includes the device, a heart rate monitor, speed and cadence sensors, standard and extended mounts, a tether, a USB cable and all relevant manuals.
Additional hardware – such as the sensors, can be sturdily fastened to the bike for practicality and ease – no more loose parts during rides!
New Features
If you like your gadgets to have an array of bells and whistles, the 520 is for you. Cyclists will be impressed by the updated user interface and new, innovative features.
The system includes GPS and GLONASS satellite chips, multiple sensors, a barometric altimeter, power monitoring, map functionality, LiveTrack and smartphone connectivity.
The only downside to these features is the reduced battery life compared to the 510, however it still boasts over 15 hours usage per charge.
Staying Connected
Most athletes are unopposed to a little friendly competition. Using the Garmin Connect Mobile app, the Edge 520 can share directly to social media so cyclists can compare with their friends.
This feature also provides live tracking, weather updates and automatic uploads to the online Garmin Connect community.
Cyclists can also use live Strava segments to meet challenges throughout their ride and share their results online. By doing so, you'll be able to keep track of your progress and watch your stats as they rise.
Keeping Fit
The Edge 520 also provides fitness buffs with handy tools for keeping on top of their routines. The device will take into account the user's HR variation, profile and power output to create a VO2 assessment. VO2 max is the volume of oxygen that can be absorbed by the user's body. This information can be used to create fitness plans that are custom built for the body's capability.
Design
Design can play a vital role when choosing a new bike computer. Size, durability and looks are all points worth considering. The 520 nests within simple, sleek black housing, making it an ideal match for any bike or style. The weight and shape of the device make it durable, especially combined with Garmin's upgraded clips.
As for size, it's small enough that it won't become a hindrance on your handlebars. Yet the screen is large enough to be acknowledged during a ride.
>>> Click Here To See Specifications, Customer Reviews & Rating <<<
PROS:
Track distance, speed, time and fitness using built-in features.
Excellent value when considering the Garmin Edge 520 Bike Bundle Computer add-ons.
Full colour display and upgraded user interface.
Smartphone connectivity.
CONS:
If you're looking for a navigation device, the Base maps are unlikely to suit your needs.
The Garmin 520 does not feature a touchscreen – although this could be a pro to some users!
Frequently Asked Questions(FAQs)
Q: How long does the battery last on the Garmin 520?
A: The battery will last approximately 15+ hours, so there's no need to worry about charging it during your ride.
Q: Does the device have a map feature?
A: Yes – the Garmin 520 comes with its own Base map. Users may also add their own to the system.
Q: Is the screen customisable?
A: Users can select one data field at a time, allowing them a clear view of the information they need, without having to take their eyes off what's ahead.
Final Verdict
To sum up our Garmin Edge 520 review, it's clear the device has its merits. However, if you already own the Garmin 510 model, it may not be worth the expensive of an upgrade just yet. For those who don't yet own a bike computer and are in the market for one of the latest, the Edge 520 is a great, versatile choice.
While it may not be the most affordable on the market, the device comes with a vast range of extras as standard that can make a real difference to the rider's experience.
Buy Garmin Edge 520 Bike GPS from Amazon.com
Check out Top 10 Mountain Bike GPS Reviews of 2018