Garmin Edge 810 Review – GPS Bike Computer
Any cyclist today will be aware of the benefits of bike computers. They can transform a casual bike ride into an athletic challenge, allowing the rider to keep track of their progress, ability and physical health. The problem is, new cyclists may struggle to decide on which bike computer to purchase due to the sheer amount on the market.
​Please note that as an Amazon Affiliate we may earn commission from qualified purchases — thanks for your support!
Garmin Edge 810 Review with Detail Features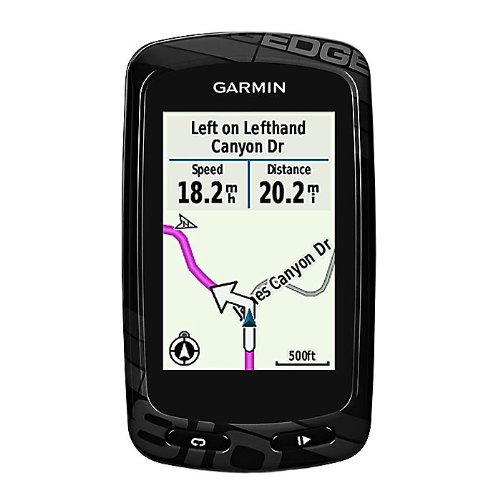 The Garmin Edge 810 GPS Bike Computer is a great place to start. While its younger, updated cousin (the Edge 520) has since been released, the 810 is still able to hold its own and provide useful functionality to cyclists. Our Garmin Edge 810 review is here to show you here.
What's in the box?
Inside the box, you'll find the Garmin Edge 810 GPS bike computer device, all relevant cables to connect the device to a computer or charge the device, and an adjustable bike mount to keep the device firmly attached to your bike. While the Edge 810 is also available as a bundle (which includes a heart rate monitor as well as speed and cadence sensors), today we are just focusing on the Edge 810 device itself and the benefits it can offer cyclists.
Handy Features
Features of the Garmin Edge 810 include time, distance and speed tracking, a touchscreen display, a barometric altimeter, customisable fields, training challenges, wireless data uploads and weather alerts. Despite this wealth of features, the device can last for up to 17 hours between charges, making it more than suitable for most cyclists who use their bikes day to day. While the 810 may not have wifi, road trip planners or call and text alerts, it's still a great multifunctional device for both new and experienced cyclists alike.
Smartphone Connectivity
The Garmin Edge 810 can be easily connected to the cyclists smartphone to allow endless connectivity. When paired up, the two combine to provide live tracking of your activities to share with family and friends online, real-time weather updates, wireless data transfers to back up your analyses of you rides, plus the Virtual Partner tool, which allows the user to compete against themselves and improve their overall scores.
Promoting Fitness
If you like a challenge, you'll be rather taken with the fitness tools featured on the Edge 810. You can track your ride data including speed, time, elevation and distance, allowing you to work out what you could work on during future rides. The device also includes the 'Workout' feature, which provides the user with helpful challenges to help them beat their stats and stay focused on their fitness.
Overall Design
The Garmin Edge 810 is rugged, robust and waterproof, making it the perfect fit for cycling in all conditions.
Its size looks and feels compact when attached to the bike, yet is clear enough to be read whilst on the move. Its lightweight housing means it has no effect on the ride quality, whilst the simple black coating is a suitable match for any color or theme.
>>> Click Here To See Specifications, Customer Reviews & Rating <<<
PROS:
Connectivity can provide live tracking, social media sharing, weather updates and data uploads.
Ability to track your ride stats, including speed, distance and time.
Lightweight, waterproof and easy to attach to any bike.
The Garmin Edge 810 is a touch screen device, making it easy to tap your desired setting during a ride.
CONS:
The on-board map system is not as in-depth as a dedicated navigation system.
No ability to add maps.
Frequently Asked Questions(FAQs)
Q: Do you need a magnet attached to the wheel in order to record speed on the device?
A: No, the Garmin Edge 810 does not require a magnet.
Q: How can the Edge 810 be updated?
A: The device can be connected to a computer via USB cable for updates and charging.
Q: How long does the battery last?
A: The Edge 810 battery will last for around 17 hours.
Final Verdict
It's evident from the above features and pros that the Garmin Edge 810 GPS Bike Computer is absolutely worth buying, especially if you're not in dire need of the addition features of the 820. Plus, now the newer model is on the market, you'll find that the older model is cheaper – despite being just as efficient, making it ideal for dedicated cyclists on a budget.
Regardless of the decision you make, you're more likely to find a product you love after doing a little research. By taking our Garmin Edge 810 review on board, you'll be able to enter the market with knowledge and make an informed decision on your purchase.
Buy Garmin Edge 810 GPS Unit from Amazon.com
Check out the Best 10 MTB GPS Reviews with Comparison Table…