Mongoose Dolomite Fat Tire Mountain Bike Review
Fatbikes are a niche within the sport of mountain biking, and definitely a fun one at that. Fatbike owners keep themselves fit in the off season with the different terrain types – including commuting through snow, mud and even ice. Given the hard terrains this type of bike has to handle and it's physical demands, entry-level prices are often unaffordable for some. If you're looking for a fatbike with a great price and the opportunity to upgrade it's features, we here at Mountain Bikes Lab have found that the Mongoose Dolomite Fat Tire mountain bike would be a great fit for you.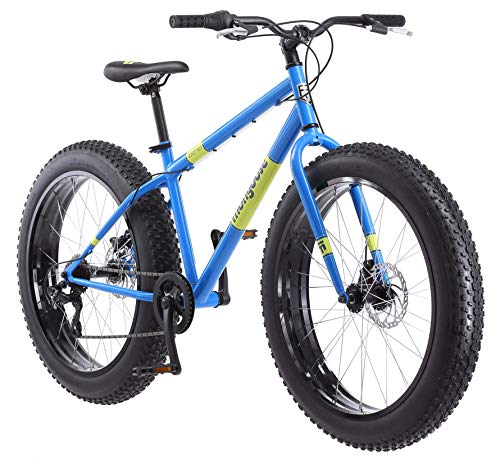 $492.27
in stock
3 new from $492.27
as of October 30, 2023 9:06 am
Last updated on October 30, 2023 9:06 am
Mongoose Dolomite Fat Tire MTB Review
There's upsides and downsides of the Mongoose Dolomite Fat Tire bike.
Pros
For starters, this is an unbeatable price for this bike. Coming in a little over $400, this bike is one of the cheaper options in the market for a fat tire mountain bike.

The steel frame has a great geometry and strength making it extremely durable while being surprisingly light at the same time.

Given it's huge size, the Dolomite bike is fairly easy to assemble and arrives in a cushioned saddle to ensure protection when delivered.

The Dolomite fat tire mountain bike has an amazing paint job and comes in three different color options (red, navy and light blue) giving you the option to choose the right look for you.

This bike is a good choice for experienced cyclists looking to wind down in the off season, as it is suitable for many types of riding conditions including rain, mud, and even snow. 

Riders have also found the wide selection of gears to be very beneficial to their riding experience.

This bike has great and simple upgrade options so many buyers customize their Dolomite bike as the componentry reaches the end of its lifespan.

The Dolomite's mechanical disk braking power is very impressive given the sheer body size it has. 
Now let's look at some of the reasons why you wouldn't want to buy this bike:
Cons
The Dolomite is an entry-level bike making some parts not sustainable for a long period. 

Given the bike's massive wheels, some riders found the bike and its tires too heavy and difficult to maneuver. 

We've seen that some riders accidently changed the gears due to the grip-shift on the handlebars. 

The Dolomite fat tire mountain bike often comes with minimal to no grease, making it so the buyer would have to lubricate the breaks and avoid some undesirable noises. 
Now that you understand some of the bikes pros and cons, let's take a deep dive into the specs:
Fat Tires
Being that this is a fat tire bike, the wheels are really the biggest piece that stands out about the Dolomite fatbike. Coming in at a whopping 26-inches and a width of 4 inches, these wheels are much larger than your everyday bicycle or even your normal mountain bike at that. These wheels are a monster on almost any terrain you ride on, giving you comfortability and stability with any destination you plan to ride to. 
These 26 inch wheels are incredibly strong and durable besides being just large. When our team tested them out, we were astonished at just how thick they really are. You'll definitely be getting your money's worth with all the abuse and pounding these wheels can take as you try out numerous surface conditions.
Design
One of the essential features on this bike is the frame design. The Dolomite's Fat Tire frame is made to improve the geometry of the bike which ultimately enhances the comfortability for you as the rider. The bike also doesn't have any suspension system which is why the frame is so essential to the design. 
Besides just having a great look and feel, the frame gives you better control whether you're off roading on smooth or rough surfaces. It is designed for you to have a great time on even the toughest biking trails, so you'll definitely be pleased with the Dolomite's unique design
Bike Build and Shifters
The build on the Mongoose Dolomite Fat Tire Bike is one of the best that we've seen here at MTB Labs. Having to deal with such tough terrains, this bike's steel frame is very durable and lightweight allowing it to ride in all types of conditions. This build is great for riders that love to ride bikes off road and on mountainside trails especially since it can withstand the pounding of these various terrains. Additionally, the seven twist shifters make it easy to adapt the bike for your terrain. 
Brakes
Brakes are always a key component of any bike, especially mountain bikes. Having good and strong brakes is important for the safety of the rider and definitely is essential when riding down steep hills. You'll be happy to know that the Mongoose Dolomite fat tire bike has powerful dual disc brakes, which is great for stopping the bike instantly and without too much effort. 
Even when you're out on a dangerous mountain trail, you can stay confident that this bike's brakes won't fail you. The powerful dual disk brakes, together with the huge wheels, will guarantee you a safe and fun riding experience.
Gears
The Mongoose Dolomite fat tire bike has the features of a high-end bike with a seven-speed gear. Based on your preferred ride, these seven gears will work great with any surface you're on. With its big frame and heavy wheels, this bike could make the uphill and downhill ride with nearly no effort. You can definitely look forward to enjoying a nice ride and taking on the hard conditions the bike is built for. These seven speed gears are definitely a great feature for this bike which will ultimately make your ride more fun and enjoyable.
Conclusion
All in all, the Mongoose Dolomite Fat Tire Mountain Bike is a great intro bike to explore a new riding experience and keep yourself enjoying this extreme outdoors sport even in the off season. With a great price for a bike of its caliber, you can rest assured that you're getting a  bang for your buck and you won't be disappointed. This fat tire bike is undoubtedly one of the best budget friends fatbikes on the market today. 
With wheels that can't be missed, you can take this bike on almost any terrain and be guaranteed a comfortable ride. The stylish design of this bike, along with the different color options, will definitely give you one of the nicest bikes when you're out riding and tackling hard trails and terrains. This bike is definitely an eye catcher and will be a nice addition to your collection that you'll love to go out and show off.
Being a bike with its pros that significantly outweigh its cons, you'll be ecstatic when it comes in the mail and you can take it out the same day that it arrives. For its price point, the Mongoose Dolomite Fat Tire Mountain Bike is ultimately the best fatbike that you'll find on the market and can enjoy in almost any riding condition.