8 Best Mountain Bike Tool Kits and How To Pick The Right One
If you are the owner of a mountain bike, you know already how necessary is to have the right tools for the maintenance job. Having a good bike repair tools box can save your money that you may have to pay the mechanics.
The tools you need are very important for performing the right maintenance and repairs on your mountain bike. Bike tool kits usually all comprised of many various parts that allow you to repair your bike. Check out what we've found as the best tool kits for your bicycle.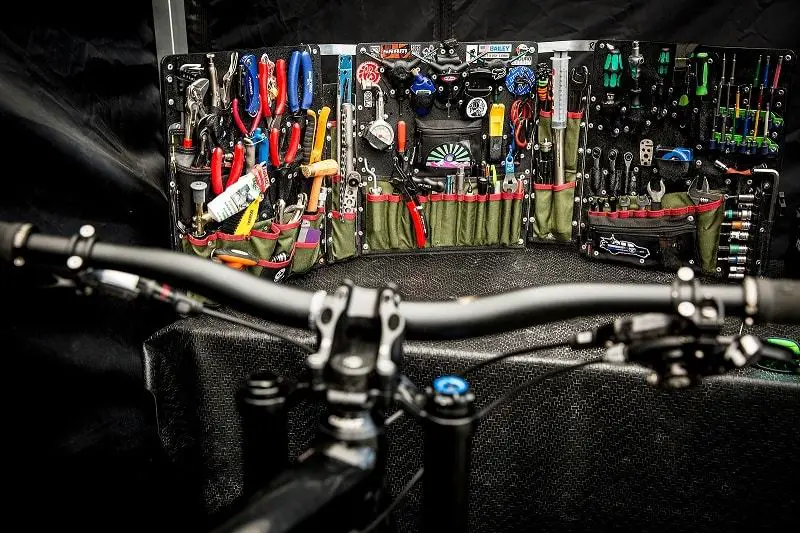 Reviews of Best Mountain Bike Tool Kits
To perform all these functions, your bile needs to be well cared for with regular maintenance tasks. A mountain bike is a special type of bike that needs to perform very often in various adverse conditions like rain, water, and mud.
All these special parts that compose a mountain bike need the specialized tools to maintain and fix them.
This is the ultimate bicycle repair toolkit. This all-inclusive tool set contains quality tools that are designed to help you repair your bike as well as for routine maintenance of your bicycle.
With a one-year warranty, Bikehand Bike Bicycle Repair Tool Kit with Torque Wrench provides you with 23 items including a chaining nut, pedal, bottom bracket and dust cap wrench not to mention spoke and hex key wrench in multiple sizes.
It also includes a chain scrubber, cable cutter, crank puller and freewheel remover. This is truly a complete package.
Made with heat seated stainless steel, this is a comprehensive kit designed especially for modern bicycles. The kit is made of durable material to ensure that one kit is all you will ever need. Furthermore, the kit is versatile enough to suit the needs of dedicated bikers as well as mechanics.
This is especially true as the torque wrench included in this kit is a must for bicycle repair and costs only a little more. The torque has a range of 2-24Nm, making it ideal for crank repair and other jobs alike.
Bikers prefer this kit over other branded ones as it performs well, is a complete collection and comes in a portable box. Moreover, it is cheaper than other branded options as well as buying the tools separately.
This kit may be the best bike tools kit on the market as it is diverse enough for most bikes and cheap enough to allow bikers to pick up specialty tools later.
Pros
A complete kit containing 23 tools with multiple wenches
Cheaper than other brands
Includes torque wrench which is essential when working on bikes
Suitable for professional and personal use
One-year warranty
Good option for new bikers
Cons
Generic set, not ideal for all bikes
May need to buy additional tools as per personal requirement
Quality on some tools not as good as the rest of the set like wire cutter and may need replacement
Check Latest Price on Amazon.com
If you are looking for the perfect Do-It-Yourself bike repair tools, then worry no more because BIKEHAND Bike Bicycle Repair Tool Kit is your ultimate choice.
This is a complete bike repair tool set that comes in a solid box, allows for easy storage and can be carried anywhere. It gives you quality tools that will help you fix your bike for a better ride. The toolkit comes with a wide collection of features amounting to 18 items in the whole package.
These tools are made with stainless steel meaning they are tough and durable. They include levers and wrenches and other tools essential for emergency repairs of your bike.
This toolkit gives you confident when riding as you are sure you are able to tackle any issues encountered. The set has been developed by professionals and the quality of tools is a guarantee of work well done.
Pros
A complete kit containing 18 tools with multiple wenches
Cheaper than other brands
Includes torque wrench which is essential when working on bikes
Suitable for professional and personal use
One year warranty
Good option for new bikers
Cons
Generic set, not ideal for all bikes
May need to buy additional tools as per personal requirement
Quality on some tools not as good as the rest of the set like wire cutter and may need replacement
Check Latest Price on Amazon.com
Deckey Bicycle Repair Tool Kit is the solution for those looking for a variety of tools at a bargain price.
Encased in an attractive tool box, the multi-functional tool kit lives up to its name with an astonishing 48 pieces that are designed for a variety of repair jobs including fixing tires, lights, brakes etc. on motorcycles or bicycles.
The tools and box are made of durable quality, the non-rust material making this a good option for a mountain bike repair kit. The range of tools available in this kit set it apart especially at such an affordable price, making it an ideal kit for beginners who aspire to become adept at fixing their win bike.
This kit has it all to make anyone feel prepared to any repair job, big or small, and the variety of tools available make this kit suitable for different types of bikes.
While the tool box was made of durable material, the case did not store the tools securely, causing them to fall out. Moreover,
the wenches in the tool box were also not designed for more challenging repairs thus, making it necessary to invest in more powerful ones.
Pros
A complete tool kit containing 48 tools
Inexpensive
Suitable for multiple purposes and different types of bikes because of the variety of tools
Less chances of rusting
Tool box made of sturdy material
Easy to travel with and make basic repairs on the spot
Cons
Tool box would not keep tools in place
Poor quality of some tools
Check Latest Price on Amazon.com
Nashbar Essential Tool Kit consists of a basic 18 tools set especially compiled for novice bicycle mechanics who want to try their hand at making basic repairs instead of calling the mechanic.
This kit includes integrated bottom bracket wrench adapter, 6-piece hex wrench set and more thus it is equipped to handle most repair and maintenance tasks and includes hex wrench set, screwdrivers, patch kit, as well as a chain tool.
Moreover, the kit contains tools that are made with an eye on durability, have an ergonomic design that has been enhanced using the latest technology to give optimum results.
Nashbar Essential Tool Kit also comes in a toolbox that makes it easy to store. It also keeps your tools organized and secure. Moreover, the specially-designed tool box can come in handy in case of emergencies on bike runs.
This versatile kit is ideal for routine maintenance that too at an affordable price, thus making it the best toolkit for non-professionals. Users can get a lot of mileage out of these tools if used by its limitations.
However, the kit is not designed for heavy-duty repairs and any such endeavors might damage the tools. This is because the tools are not designed for tackling professional-level repairs. Moreover, the tools in this kit are of a generic nature and not ideal for newer bike models.
Pros
An ideal basic 18 tool for beginners
Cheap
Suitable for beginners
Suitable for regular maintenance and repair
Easy to store
Decent torque wrench
Ideal for older bike models
Easy to travel with and make basic repairs on the spot
Cons
For limited use as has only few tools
Generic, not suitable for newer bike modals
Low end quality, may cause tools to bend if pressure is applied
Not designed for difficult repair challenges
There may be a rusting problem
Check Latest Price on Amazon.com
Are you spending a lot of money visiting bike maintenance shops for minor repairs on your bike? Do you wish you had the right tools for undertaking simple maintenance of your bike?
Worry no more because BIKEHAND Bike Bicycle Repair Tools Tool Kit Set is your best solution.
It is a handy toolset that helps in fixing any type of fault that happens in your bike. The toolkit presents a variety of tools and it`s offered at an affordable price and is worth its value. All the tools are developed from strong and long-lasting material that can tolerate wear and tear associated with usage.
This toolkit will save you unnecessary cost because you will be able to perfectly fix your bike. It comes with all basic tools needed for almost all Do-It-Yourself repairs.
With that, you will not even have to visit any maintenance shops. With the help of the tools available in this toolkit, you can comfortably do total reassembly and disassembly, a complete overhaul and perform essential repairs.
Pros
A good tool kit containing 18 tools
Affordable
Basic quality tools of durable quality
Suitable for fixing a variety of bikes
Ideal for occasional use
Great option for basic bike repairs at home
One year warranty
Cons
Generic set of limited use
Quality not comparable with expensive brands
Not designed for heavy repair work
Check Latest Price on Amazon.com
The Iron Arm Professional Tool Kit is an all-purpose tool kit designed to serve the needs of everyone from the novice to the expert.
Moreover, it contains tools like dust cap wrench for Shimano Hollowtech II, spoke wrench in multiple sizes, hex key wrench in multiple sizes, 3 pieces of tire lever set, 5mm Phillips screwdriver, master link tool, chain hook and cartridge bottom bracket tool that make it a good bicycle repair tool kit as well.
The Iron Arm Professional Tool Kit is encased in a hardshell plastic tool box that makes it easy to store and organize the tools as well as to travel with them. It is a solid starter kit with
an essential compilation of tools. Moreover, it also includes specialty tools desired by professional mechanics for many advanced repair jobs.
The kit and tools are visibly made of sturdy, durable material and that the tools appear well-crafted so much so that the tool kit can definitely be used for years to come if used for properly and with care.
However, the very inexperienced might feel overwhelmed by the sheer number of the tools, so a smaller set of tools or even a tool might be a better starting point.
Moreover, while the tools are sturdily made for regular use, using them for heavy repair work might result in breaking or damaging some tool.
Pros
A tool set containing 18 tools
Value for money
Suitable for beginners and experts alike
Suitable for regular maintenance as well as difficult repair jobs
Easy to store and organize
Tools and box made of sturdy and durable material
Easy to travel with and make basic repairs on the spot
Cons
May not be suitable for very beginners.
Poor quality of some tools
For limited use
Check Latest Price on Amazon.com
In case you are looking for quality tools to take care of your modern bike, then Bicycle Bike Repair Tools Tool Kit is your best choice. It offers quality tools that will help you handle all faults on your bike.
It has a very convenient plastic casing that allows for easy storage and is also very comfortable moving around with. Also It has amazing features such as Shimano compatible wheel remover that work perfectly well.
You don't have to spend much on repairs by taking your bike to those expensive maintenance shops. All you need to is to purchase this toolkit. The toolkit is very affordable.
With the help of the tools that are included in the whole set, you can comfortably perform almost all the basic repair and maintenance services on your bike.
You can repair punctures, reassemble and disassemble the whole bike, tune wheels, adjust the bottom bracket among others. Most bike repairs are simple and if you have the tools, you can fix them. Find few more important tools on damntools
Features at a Glance
Cartridge B.B Tool
Red-tire levers
Freewheel Turner
8mm Hex Key Wrench
Flat Phillips Screwdriver
Cotterless crank extractor
Check Latest Price on Amazon.com
Are you in search of a toolkit that will solve all repair problems associated with old bikes of all types? Search no more because the Bike Hand Tool Kit Bike Bicycle Repair Home Mechanic Road ATB Hybrid will solve all your problems.
It is the perfect solution for all types of older bikes. It is a sturdy tool box that has an inbuilt handle that makes it easy to carry.
This toolkit contains quality tools that are designed for the bicycle mechanic. The kit will help you fix all your simple and advanced bike problems comfortably and anywhere.
All common bike repair tools you will need are all in this tool. You can solve problems of Road, Mountain, BMX, Hybrid and Track bikes.
You will be able to maintain your bike in a good condition with the help of these tools. These tools can help tune the bike wheels, reassemble and disassemble it, change bearings, replace worn-out tires, make adjustments among others.
The tools are designed for quality and worth the price and can are meant to fit in different bike types.
Features at a Glance
Strong tool box with inbuilt handles
Tire repairs
Wrenches
Flat Phillips screwdrivers
Cotterless crank arm remover
Adjustable bottom bracket
Check Latest Price on Amazon.com
Best Sellers in Bike Tool Kits on Amazon
Why to consider purchasing Best Mountain Bike Tool Kit
1. Expert repair tools
Mountain bikes might involve some more expert or professional type of repair tools including facers, headset presses, or wheel truing stands.
For some people that are not very good on do it yourself tasks and not confident with these type of repairs, it might be the best to leave these types of repairs in the hands of their local bike mechanic experienced and trained in these types installations, repairs, and maintenance.
2. Leave expert repairs to professionals
The average person, even if a trained mechanic, without the right training can damage the bike or his equipment, or really hurt himself.
Your bike might get damaged beyond repair, so it's better not to leave these repairs to just anyone or try them by yourself if you are not really well experienced in performing them.
3. Repairs and maintenance you can learn yourself
In case that you are new to work on repairs and maintenance on your bike you can learn some skills by checking WikiHow or DIY bike yourself videos like those of Dave Delgado.
You'll find all sort of videos on various installation, repairs, maintenance, and tuning topics for your mountain bike. You may use these videos for tricky topics you are not totally familiar with, for example help with bleeding brakes and damping settings.
You may also use online tools for comparing different prices and features of various mountain bike tool kits offered by different manufacturing brands. All you have to do is to type in the search box the tool you want to compare the price provided by different vendors, then press Search or Enter.
4. Essential Mountain Bike Tools
One of the essential mountain bike tool kits you might need to consider is the Bike Repair Stand. This tool is important because it provides a secure foundation to work on your bike.
There are hard mounted to a floor or wall base as well as portable bike repair stands. When you are actually able to work on your bike in a proper position that allows you to keep it steady and reach all sides of your bike, or to cycle the drive train with ease, this really makes a difference.
It also pays off to perform your own wrenching in lean times, but in order to install, repair, tune and maintain your bike with any success you need to acquire a decent quality tool kit.
Here are other tools you would need to purchase:
Allen keys – T-shaped, ideally long, and ball-ended to be possible to use them in tight spaces. Another options of Allen keys are Y-shaped and the standard L-shaped type.
Cassette removal tools
Bottom bracket tool – with good leverage and solid engagement
Chainring bolt tool
Chain tool – with smooth action
Tyre levers
Cable cutters – for changing gear cables, Pedal spanner
Torx drivers – for brake/rotor adjustment
Screwdrivers – for rear and front mech limit screws
A tiny screwdriver – this could always be useful
Things You Need to Consider Before Buying a Bike Tools Box
1. Box in a Bench types of MTB tool kits
Some manufacturers have fitted the contents of an entire home workshop into just a cardboard box. This kind of mountain bike tool kits has excellent finish and functionality, so acquire a chest for a fully equipped workspace. However, the price is directly proportional to the quality and the amount of tools you get.
From this kind of bench in a box took kit you can expect to get usually the following tools: Torx keys (Y-shaped, T-shaped), Hex keys (Y-shaped, T-shaped, L-shaped), chain tool – a combination of 10,9, and 8 mm spanners, tire, levers, cable cutters, spoke keys, screwdrivers, cassette lockring tool, vice whip, pedal spanner, torque wrench, Shimano cartridge BB tool, external cup BB tool, cone spanners, threadless nut setter, crank extractor, tape measure, parts bowl, BMX freewheel remover, socket/tool drive, BB tools (Campagnolo SKS, 8-pin, 6-pin), cable wrench, headset spanners, bottle opener.
2. Other Board & Tools MTB Tool Kits
Some of this type of mountain bike tool kits feature up to 80 high-quality tools for adjusting and removing just about everything: spanners, screwdrivers, files, crank extractors, chain whip, pliers and 3/8in drive torque wrench, 25 and 32mm sockets, hex drives.
3. What to look for
Look for a tool box that is really impressive if you can afford the price. Shop for a tool box with easy access design and a clear layout, with some extra spaces for you to add extra tools.
4. The basic tools
The basic tools you will still need if you are shopping for a mountain bike tool kit in case that you are on a strict budget are: cassette lockring tools (Shimano and/or Campagnolo), Hex wrench sets, BB tools, chain wear indicator, bottle opener, chainring nut wrench, crank puller, crank wrench, chain lube, cable cutter, hammer, folding chain tool, cone wrench set, adjustable wrench, combination wrenches, tape measure, pedal spanner, spoke wrenches, screwdrivers, tyre levers, sprocket removal tool, brush, knife, pliers, star driver.
When choosing your mountain bike tool kit, you can choose a budget kit, a mid-budget choice, or a professional mountain bike kit.
Conclusion
We wanted to present here a guideline on the best bicycle tool kits to purchase, why would you need to acquire your own bike tool kit and several tips to consider before shopping for a mountain bike took the kit.
We consider that it is important for every owner of a mountain bike to have in possession also some essential tools that are really a must have in your tool box.
These tools range from basic tools you can buy on a strictly limited budget, to middle range and expert/professional grade mountain bike tool kits.
We have used all these various bike maintenance and repair tools with great success and we certainly know that many other bike rider enthusiasts have also used them as well.
We did not provide an exhaustive list of everything you will ever need, but we hope our article is useful and it should provide a good base of for you to make an informed decision on choosing the best tool kits for mountain bike.