Must Have Mountain Bike Accessories
Now that you got yourself a nice mountain bike, what's next? Go out and ride? Not yet! Having a mountain bike is just the first step, and sad to say that the spending does not stop there. Before you take your bike for a spin you need to bring few important items with you, having the ideal gears and accessories can make a huge difference. Come on and take a look at the essential mountain biking accessories to gear you up before you hit the trail.
​Please note that as an Amazon Affiliate we may earn commission from qualified purchases — thanks for your support!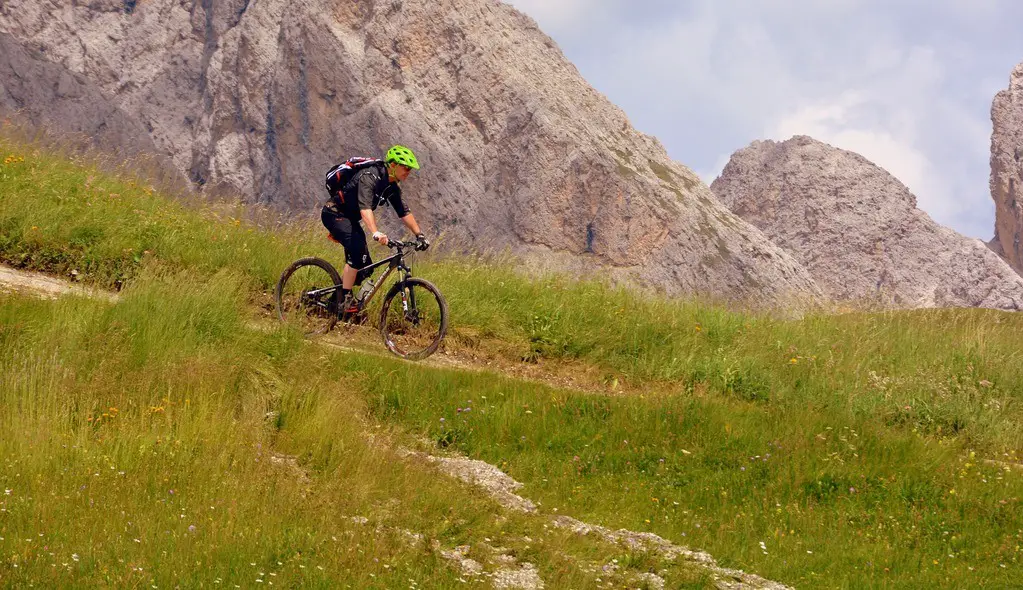 1. Helmet
Don't ever dare to go out on a trail without it. Easy or tough riding conditions, whatever mountain biking type you are into, the importance of an appropriate head protection can't be overstated. Without a doubt, a decent mountain bike helmet can save you from a serious injury; a helmet can save your life. I don't see any reason why not wear it, aside from the protection it gives; mountain bike helmets today are stylish. There are lots of colors and styles to choose from. Just like what I said in my other article "It is far better to put on one and never had a need to use it, than slip into a crash, without having it on."
2. Gloves
Hands are the most vital component of controlling the ride; therefore they must be free and able all the time. Besides steering and balancing the hands use it to shift gear and braking, so this only means that it gets a lot of damage, not to mention when you crashed or fall you use your hands to protect your head from hitting the ground and you don't want that to happen especially without your gloves. A quality set of mountain biking gloves can help reduce the damage it gets from regularly riding.
3. Hydration
Get hydrated before you start biking, charge up with lots of h2o, especially on XC (cross-country) mountain biking, this means an extreme workout, and water can keep you going. You can just bring a cheap water bottle, and for a couple of dollars, you can buy an easy to install bottle bracket and attach to your mountain bike's frame. For extremely long rides, I suggest a Camelbak or other backpack hydration system. This will keep you from the trouble of using one of your hands to grab the water bottle and drink, and focus on the trail.
4. Eye Protection
This is a must-have, especially when you are riding fast or downhill. The tiniest fleck of dirt or even dust can lose your vision at a critical second, and that can cause an accident in an instant. In a single track, it can protect your eyes from small branches that suddenly appear on corners. The wind that blows directly to your face can makes your eyes water and reduces your visibility, goggles or simply eyeglasses with clear lenses can prevent this; and of course, sunglasses to shield your eyes from the sun's ray on a sunny day.
5. Biking Shoes
You can choose the best mountain biking shoes depending on the type of pedals that you have on your bike. If you have a specific mountain bike shoes in your mind that you want to wear, be sure that it is compatible with your MTB's pedals or else you're just going to waste its purpose, but don't worry if you can just always change your mountain bike's pedals with just a few bucks. Wearing the right mountain bike shoes is a great help to improve your performance. Aside from comfort and stability that it provides it also gives the rider more power since the shoes do not just push the pedal it also pulls it at the same time. It can boost your pedaling power up 30% more.
6. Biking Jersey
I am not talking about the tight race jersey with lots of patches of advertisement in it, but of course, that would do too, if you don't mind wearing them. There is now Casual Mountain biking Tees, looser cuts that are available in wide variety of designs. They also have the same qualities of traditional race jerseys or even more. They got ventilation and wicking properties and tailored to give you the best mountain bike riding experience. Major clothing companies are now selling T-shirts specially designed for mountain biking purpose.
7. Biking Shorts
Our ass is one of the three contact points on a bike, so if we're riding on a rough terrain, practically nothing takes a heavier beating than this three. While a decent saddle can reduce some of the pain, together with an excellent mountain biking shorts, they can totally get rid of the pain. You could wear those tight Lycra pants with pads if you like, but don't worry you have a choice, there are now well-padded, stylish, comfy mountain biking shorts you can find in different colors and styles.
8. Emergency Tools
Mountain biking is about pleasure and excitement, and usually, that is precisely what it is. However, mishaps do happen, so you must always be prepared. A few things you must carry such as a mountain bike multi-tool, a mini pump, a patch kit or an extra tube in case of flat tires. It is not a burden to carry a small first aid kit; you can always put it on a knapsack or a seat bag.