Rambo Nomad 750W XPC Viper Electric Hunting Bike Review 
The Rambo Nomad XPC Viper electric hunting bike is an upgrade of Rambo's original 750 watt bike, and is designed to give better performance, greater range, and an overall superior riding experience. The Bushwacker is geared more towards a long range rider who is contending more with distance than with elevation, which is why it has a 38 mile electric range. The Rambo Nomad on the other hand, is designed for a rider who is looking to tackle steep climbs, and rugged terrain, which explains its 11 speed drive train, as opposed to the five speed drive train of the Rambo Bushwacker. In this review we will highlight some of the best features of the Nomad as well as a comparison between this bike, the Bushwacker, and the original Rambo 750W electric bike from which both of these models stemmed from. 
Rambo Nomad Electric Hunting Bike Review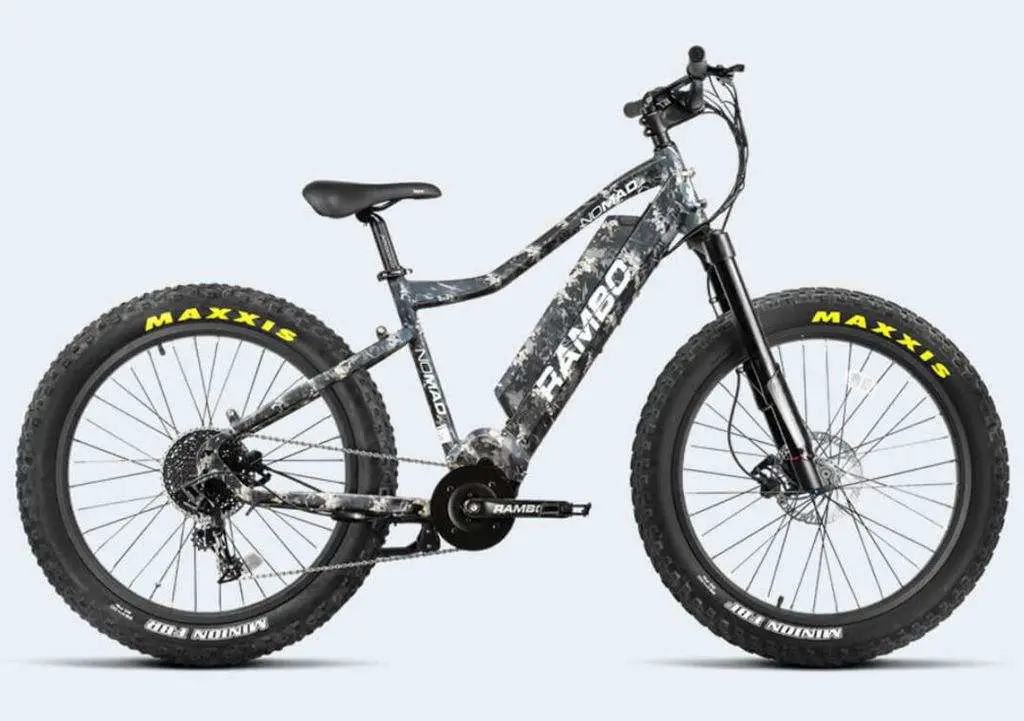 If you have been to our site before you'll know that Rambo is one of our favorite electric hunting bike companies. Although not perfect, every Rambo bike we have tested has performed more than adequately and the same can be said for the Rambo Nomad. Like its cousin the Rambo Bushwacker, the Rambo Nomad is an upgrade from the original Rambo 750W model which lacked sufficient front suspension. Although not a huge issue for a hunting bike with fat tires, this was one of the main detriments to the bike, especially considering the price that you were paying for an electric hunting bike. Listening to the complaints, Rambo went back to work and came back with the Rambo Nomad and Bushwacker. Designed very similarly, these bikes have both subtle, and obvious differences, which will certainly impact your decision on which one to purchase. 
Bafang 750 Watt Motor
Although we love Bafang and their motors, we are somewhat disappointed in Rambo's choice to use a mid-drive motor for this electric bike. With an average power rating of 750W and a peak rating of 1000W the Bafang BBSHD motor provides ample power for the average rider however, we would definitely prefer if this were an all-wheel drive electric bike like the Rambo Krusader or Rambo Megatron. Both of these bikes have dual Bafang motors, which, although more pricy, give the rider much more freedom to ride where they want without fear of their bike not having enough power to get them there. In the case of the Bushwacker, the single mid-drive motor is not an issue because the bike has only five speeds and is clearly designed for longer, flatter trails.
However, the Nomad has eleven speeds, and is certainly capable of handling speed, rugged terrain. Unfortunately, because this bike only has one motor it may limit some of the places where you can ride this bike. This is not to say that we do not think that the motor is of high quality, because it is quite the opposite. Bafang motors are some of the most consistent and high performing electric bike motors on the market, and although we would have preferred an all-wheel drive option for this bike, we are still quite satisfied with the power and performance that you get from the single mid-drive Bafang motor. 
Panasonic Lithium Ion Battery
Lithium ion batteries have become the industry standard for electric mountain bikes due to their superior power to weight ratio. Although all of the Rambo bikes we have reviewed before have be equipped with Samsung batteries there is nothing wrong with switching things up and using a Panasonic battery. Like all the other bikes we tested this battery three times and each test came back very close to the advertised 14 amp hours, something which is not always the case with less high quality electric bike batteries. With the Panasonic 48 volt battery, you will be able to get an effective electric range of 25 miles, which obviously can be greatly increased with pedaling.
For most riders 25 miles should be more than enough to get them where ever they need on a single charge, but for the most hardcore riders you could consider upgrading to a more high powered battery with a greater range. Overall we feel as though this is a good choice for the type of rider that the Rambo Nomad is designed for and having a battery with slightly less than top notch range helps keep the price of this electric bike down towards a more affordable level. 
Tektro Hydraulic Disc Brakes
Although it feels like we may be repeating ourselves at this point it is certainly worth it to mention in all of our Rambo reviews. Hydraulic Disc brakes are the best brakes you can find and it is definitely worth it to have them, especially on an electric bike! The Rambo Nomad has fully adjustable front and rear 180 mm Tektro hydraulic disc brakes which will provide excellent stopping power on any terrain. Although not as prestigious as the world famous Shimano brand, Tektro is slowly working their way towards that level of fame in the biking community and are nearly identical to Shimano in terms of performance.
If you would prefer to have Shimano hydraulic then by all means you can switch out your disc brakes, however if we were deciding what to do we would definitely keep the brakes that the Rambo Nomad comes with. They are high quality, will last a very long time, and perform just as well as all but the most expensive Shimano hydraulic brakes, which perform of a hair better for a much more expensive price tag. In our opinion the Tektro hydraulic disc brakes are more than sufficient for anyone but the most extreme outdoor rider and will save you quite a bit of money compared to switching them out for something more high end. 
Excellent Customer Service 
Customer service is one of the most important parts of the buying experience and Rambo Electric bikes ensures that you never have to deal with the hassle of difficult customer service. Known throughout the electric biking world for the quick and easy customer service experience, Rambo bikes has a dedicated team of electric bike professionals that are on call at their headquarters ready to answer any and all question you may have about your new Rambo electric hunting bike.
Conclusion 
Overall, the Rambo Nomad is a high quality, though perhaps slightly underwhelming electric hunting bike. An upgrade of the original Rambo 750W electric bike, the Nomad has excellent suspension making the riding experience much more enjoyable, however there are some features that we wish Rambo would have included. For an eleven speed electric bike it would have be nice to have all-wheel drive, however this is not a major concern for most riders who will not be tackling anything too rugged. We feel as though the Rambo Nomad is an excellent choice for anyone who is looking to invest in an outdoor electric bike but is not someone who will be taking it on any trails that are too long or steep. 
Frequently Asked Questions 
Where is the Rambo Nomad made?
The Rambo Nomad, like all other Rambo electric hunting bikes, are designed and produced in their factory in Lakeville, Minnesota, USA.
What is the max speed of the Rambo Nomad?
The Rambo Nomad can reach a max electric speed of 20 miles per hour. 
Is the Rambo Nomad a good electric hunting bike?
Yes the Rambo Nomad is a high quality electric bike designed to withstand any and all harsh weather. Reasonably price with excellent components the Nomad is a good choice for the outdoor enthusiast who is not looking to tackle anything too extreme.