Rambo R750 Pursuit 26 Inch Fat Tire Electric Hunting Bike Review
New to the scene of mountain biking, electric bikes have been rapidly growing in popularity throughout the last few years and are slowly taking over both the metropolitan, and outdoor biking arena. The Rambo 750 Pursuit fat tire electric hunting bike is made by Rambo, one of the best electric hunting bike specialists in the world. In this Rambo R750 Pursuit electric hunting bike review, we will go over some of the distinguishing features of the R750 as well as some of its top pros and cons to help you determine if the Rambo Pursuit is the electric hunting bike for you.
Rambo 750W Pursuit Electric Hunting Bike Review 
When buying an electric bike the first thing that you must consider is the class of electric bike that you are buying. There are three classes of electric bikes, class 1, pedal assist up to 20 mph, class 2, throttle on demand, and class 3, pedal assist up to 28 mph. The Rambo 750 fat tire electric bike is a class 2, throttle on demand mountain bike with a maximum speed of 19 mph.
Due to the motorized nature of electric bikes, it is important to understand the type of jurisdiction you live in and the restrictions that may apply to the class of electric bike you are planning on buying. In the United States, class 2 electric bikes are not very restricted, especially with a top speed of less than 20 mph, you should have no problems riding the Rambo 750 electric bike on trails, or through the city without a special license.
Now let's get into the interesting parts of this review, the features of the Rambo 750 Fat Tire electric bike. 
26" x 4" Fat Tires
The Rambo 750 Pursuit electric bike is built for the outdoors and rugged terrain, and its fat tires make it a perfect fit for off-roading in the wilderness. These Kenda Krusade 26"x4" fat tires are top of the line anti-puncture tires lined with Kevlar to provide maximum durability. Additionally the Kenda Krusade tires have an aggressive tread produced specifically for harsh off-road riding conditions.
If you have read some of our other fat tire mountain bike reviews you'll know that our team loves the feeling of riding a fat tire mountain bike and that does not change for the Rambo 750 electric bike. The tires provide excellent cushion when riding over rugged terrain, and their superior durability will put your mind at rest knowing that your tires will not pop in the middle of your ride. 
Motor, Battery, and Range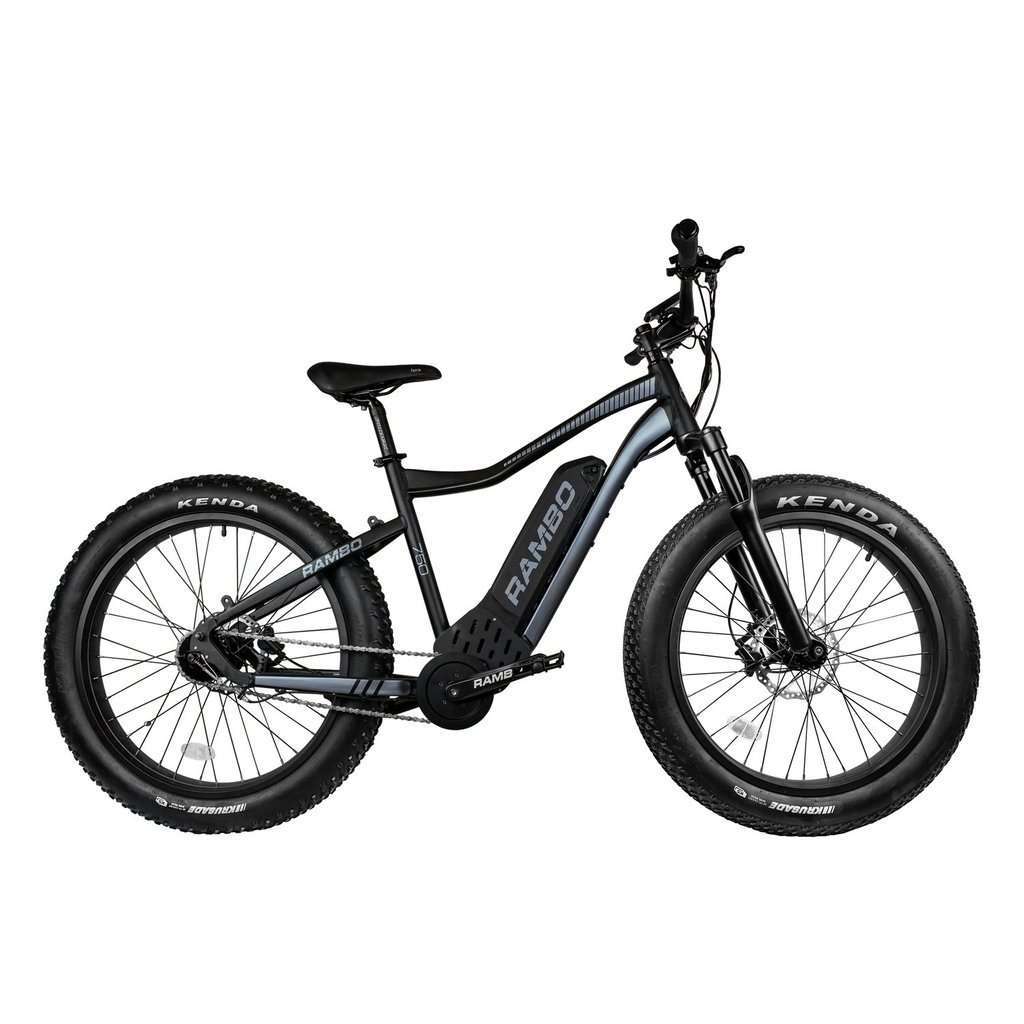 As revealed in its name, the Rambo 750 electric bike is equipped with a Bafang 750 watt, BBS02 high torque motor, with a peak output of up to 1000 watts. The battery on the Rambo 750 electric bike is a Samsung 48 volt, 14 amp-hour, lithium ion battery, a classic in the electric bike world. Lithium-ion batteries are the most common electric bike battery and power nearly 90% of all electric bikes on the market. More efficient than other battery types, lithium-ion batteries have a far greater power output to weight ratio, and are quickly becoming the industry standard for all electric bike producers. The Samsung 48V battery has a 4 hour change time, and combined with the Bafang 750 Watt motor, gives you an effective pure electric range of 19 miles, but a can travel significantly further with some pedal assistance. 
Overall while the Rambo 750 electric bike may not have the absolute best in class motor or battery, however, they are still extremely efficient and will give you some of the best performance for the price that you are paying for the bike. With an true electric range of 19 miles, you have a huge area to travel and with some pedaling that range is increased to an even larger area. The Rambo 750 electric bike will allow you to comfortably ride long distances, and is perfect for someone looking to invest in a high-end, off-road, electric bike. 
Aluminum Alloy Frame and Premium Components
Made out of a high quality aluminum alloy, the Rambo 750 electric bike is durable and lightweight, and comes in either sleek, matte black or charcoal grey finish. The Rambo 750 electric bike come in two frame sizes, 19" and 17.5", which, with the adjustable seat, should fit most riders. One plus of having an aluminum frame is the huge weight decrease compared to more dated steel frames. While just as durable, Aluminum Alloy 6061 weighs nearly two thirds less than traditional steel, this drop in weight leads to a far more efficient riding experience while also making transporting your bike significantly easier. 
In addition to its excellent frame, which has a lifetime warranty, this electric bike is also equipped with high end components that are covered with a one year warranty. From its tires, to its hydraulic disc brakes (more on this in the next section), to its Promax handlebars, to its Bafang motor and Samsung lithium ion battery, the Rambo 750 electric bike is filled top to bottom with high end components to guarantee peak sustainable performance.
When compared to other electric bikes the Rambo 750 more than holds its own. While there are certainly electric bikes with better hardware, at this price level the Rambo 750's hardware is top of the line and will provide high quality performance for many years. Click here for more details about the specifics of the Rambo 750 electric bike components. 
Hydraulic Disc Brakes 
The best of the best when it comes to brake technology, hydraulic disc brakes are what professional bikers use to ensure they brake efficiently and smoothly while riding. Braking is clearly one of the most important pieces of a mountain bike, and when it comes electric bikes this is even more true. Because your electric bike is motorized, and you often are riding faster than you would be on a normal bike, having effective and smooth brakes is extremely important to make sure you do not hurt yourself or others while riding.
The Rambo 750 electric bike has both front and rear brakes powered by Logan HD-E500 180 mm 2 piston hydraulics. More effective than rim or mechanical disc brakes in nearly every way, hydraulic disc brakes will give you excellent control and stopping power, while also lowering maintenance needed for you electric bike.
The Rambo 750 electric bike was designed to be ridden outdoors and giving the bike fully sealed hydraulic breaks was a great decision by Rambo bikes and helps reduce any brake maintenance that can be time consuming and costly when it comes to repairing rim or mechanical disc brakes. 
Pros and Cons 
Pros 
Powerful Bafang 750 watt motor which gives anyone the ability to haul items, climb steep hills, or ride over long ranges

Excellent hydraulic disc brakes with sooth but effective stopping power

Anti-puncture Fat tires lined with Kevlar designed to handle the roughest terrain 

Ergonomic handlebar design with all electric controls within reach from you hand without having to take your hand off the handlebars

High quality battery with a long life and long charge time 
Cons 
Accessories are not included and some would be great to have for someone looking to use the bike for hunting

The fat tires can handle any terrain and offer some suspension but the bike itself does not have top-level suspension.
Conclusion 
Overall, our team truly enjoyed riding the Rambo 750 Pursuit electric bike. A change of pace from traditional mountain bikes, this electric bike was smooth, easy to ride, and could go a long way on a single four hour charge. Although it is pricey, the Rambo 750 is nowhere close to the high end of electric bikes which can go up to well over $10,000.
onsidered to be an rugged outdoor electric bike, this bike performed well on rough terrain and is helped considerably by its anti-puncture fat tires. Relatively inexpensive for an electric bike, the Rambo 750 is an excellent choice for an outdoorsman or anyone looking to find a starter electric bike. We would certainly recommend this as one of our top choices to anyone who is starting their search for their next electric hunting  bike. 
Frequently Asked Questions
How fast does the Rambo 750 electric bike go?
The Rambo 750 electric bike is a class 2 throttle on demand, 750 watt electric bike with a top speed of around 20 mph.
Where are Rambo electric bikes made?
The Rambo 750 electric bike, along with all other Rambo electric bikes are made in the United States in Lakeville, Minnesota.
Are Rambo electric hunting bikes good?
Powerful, relatively inexpensive, reliable, and quite, Rambo electric bikes are an excellent choice for a hunter, outdoorsmen, or really anyone looking to invest in a high quality electric bike.