Best Tire Pressure Gauges for Mountain Bikes with Buying Guide
You might never think about how important a reliable tire pressure gauge can be until you have experienced a tire blowout while you are on your mountain bike. Blown out or flat tires can be extremely dangerous and they also deprive you of enjoying your time on the trail.
Buying reliable gear and accessories is not only crucial to the success of your mountain biking trip but is also essential to secure your safety.
​Please note that as an Amazon Affiliate we may earn commission from qualified purchases — thanks for your support!
Quick Answer – Best Tire Pessure Gauges for Bicycle
in stock
35 new from $29.97
5 used from $28.44
as of November 24, 2023 3:05 pm
in stock
2 new from $27.20
as of November 24, 2023 3:05 pm
in stock
2 new from $13.61
as of November 24, 2023 3:05 pm
Last updated on November 24, 2023 3:05 pm
Before you embark on your upcoming biking adventure, you always need to adjust the pressure of your tires. This will help improve the performance of your wheels and allow you to overcome the roughness of the trail.
A tire pressure gauge is as important as quality bikes to avid riders. You don't have to head to the bike shop every time you check the pressure of your tires. This is extremely impractical and expensive. Pressure gauges are practical and reliable tools that will make your life easier.
In this article, we provide an informative insight into what a good gauge pressure should be like and what to look out for when you are shopping for one. We also analyzed some of the best-selling pressure gauges for mountain bikes on the market to help you find the one that works for you.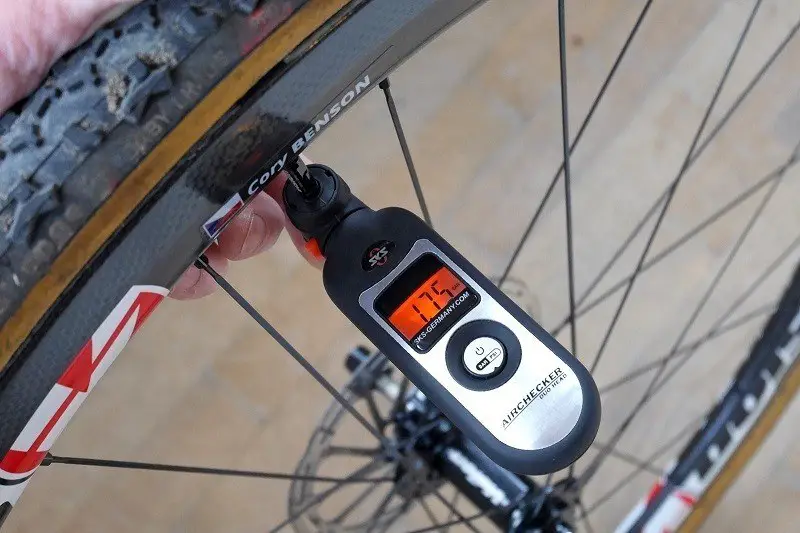 Reviews of Best Tire Pressure Gauges
Understanding the features of each product will help you pick the most suitable one. In this section, we analyze the pros and cons so that you choose one that perfectly matches your needs.
01. Topeak SmartGauge D2
Anyone who has an bicycle should have a piece of equipment such as the Topeak SmartGauge D2 for air pressure measurement. Usually, people are used to pressing the tire after inflating it to roughly gauge the air pressure in it.
However, with a tool such as Topeak SmartGauge D2, you would be able to read the exact pressure in your tires without much effort. The digital display gives you accurate pressure for up to 250 PSI.
This can work both on your tires as well as your suspensions. The precision digital gauge along with a rotating head makes it easier for you to know the precise pressure with a straight angle for easier reading.
The nozzle can be used both on Schrader or Presta valves without you having to change any components in this equipment. The equipment also comes with an air-release button that you can use to release excess air to ensure the exact pressure is maintained after inflating the tire.
The material that is used for this equipment is of engineering grade plastic with dimensions of 4″x1.8″x1.4″ and weighs 65 grams. This makes it easy for storage in your car's glove box or your garage.
Pros
Digital display with a rotating head for easier reading
Measures up to 250 PSI making it suitable for all automobile tires
Works on Schrader or Presta nozzles without changing spares
Weighs just 65 grams with a 4″x1.8″x1.4″ dimension
A quick air release button to release excess air pressure if necessary
Suitable for both tires and suspensions alike
Cons
The Gauge does not auto recalculate pressure
02. SCHWALBE Airmax, Pressure Gauge
This Schwalbe Airmax pressure gauge is manufactured in Taiwan using the best in terms of technology. Anyone who owns an automobile should have a pressure gauge such as this handy to know the exact pressure on their tires.
It can be used for bikes, cars and other automobiles to give you the exact tire pressure. The equipment comes with a blue digital pressure gauge. The product also comes with 1 replaceable lithium metal battery which is part of the package.
The product dimensions are 1.8 x 0.8 x 3.7 inches and it weighs only 1.76 ounces. Since the product is compact you can carry it around with relative ease or have it stored in the glove box of your car or your garage.
The Schwalbe Airmax pressure gauge works on both Schrader and Presta valves making it convenient for all types of tires. It is capable of measuring up to 160 PSI and that is more than what is required for your car tires or tires of other automobiles that you might own. It comes at an affordable price making it suitable for both personal and professional use.
Pros
Helps measure up to 160 PSI on tires for different automobiles
Compact in size with dimensions of 1.8 x 0.8 x 3.7 inches and a weight of 1.76 ounces
Suitable for both Schrader and Presta valves
Comes to you at an affordable price
Blue digital pressure gauge with technology from Taiwan
Equipment is suitable for both professional and personal use
Cons
No clear instructions
Hard to get reading with the Schrader valve type
Readings are sometimes inaccurate
03. Slime Digital Tire Gauge with Lighted Tip
The Slime digital tire gauge for mountain bike is one of the best that you can have to know the exact air pressure on your tires. This product is ideal and can be used at night as well to read the measurement as it has a backlight.
The nozzle of the tire gauge comes with a light as well making it easy to use in the darkness of the night. You can measure up to 150 PSI without any trouble and that makes it suitable for any type of bike or car that you might own.
The product is designed with an ergonomic grip making it easier to grip while it reads the air tire pressure. The battery that is included with this equipment lasts long so that you do not have to worry about replacing them.
Automatic shut down means that the equipment automatically shuts down which extends the battery life even if you forget to switch the gauge off. The equipment comes in dimensions of 1 x 4.8 x 6.5 inches and has a total weight of 0.16 ounces making it storage-friendly. Anyone who owns a device of this kind would not have to bother going to a gas station or a garage to have their air pressure checked.
Pros
Compact in design with dimensions of 1 x 4.8 x 6.5 inches
Mounted with a LED tip makes it easier to use at night
The display has a backlight making air pressure reading at night easier
Measures air pressure of up to 150 PSI
Weighs 0.16 ounces making it storage-friendly
Automatic shutdown helps with prolonged battery life
Cons
No way to automatically turn on the gauge
No way to change the battery
The gauge tip is too short
04. Bike Pump with Gauge by Pro Bike Tool
The first product on our list is an excellent bike tire pressure gauge offered by one of the most famous manufacturers. This is a fast and easy to use gauge that enables you to reach the desired pressure 30% faster than other products. With a fewer number of strokes, you will have your tires perfectly inflated with less muscle strain.
This oversized bike gauge has a flexible air hose design. This will reach your tire valve even if it is placed at a tight or weird angle. After use, the hose can be disconnected and stored in the handle for easy and convenient storage.
It is Presta and Schrader compatible with thread-on valve connections to suit all your tires. The gauge is integrated into the hose and it is very easy to read.
This bike pump is made of aluminum. It is lightweight, compact and very easy to store and carry. This gauge guarantees no leaks so that you can finish your task with great precision. No adapters or extra tools are needed to inflate your tires to perfection. It also maintains the condition of your tire valves.
Pros
Durable and lightweight design.
Very easy to store and use.
Inflates tires accurately with a fewer number of strokes to protect from muscles strain.
Flexible hose that reaches tight and weird angles.
Protects the valves of the tires from damage.
Cons
Carrying this gauge on your adventure can be a little bit uncomfortable. The mount is rather flimsy and this means that it moves nosily especially on rough trails.
05. Digital Bike Tire pressure gauge by DIYCO
Installation of this pressure gauge is very simple. It is extremely reliable and will allow you to read the pressure even after the gauge is removed from the tire. This a versatile pressure gauge that you can use with your bikes, in addition to old and new cars that have TPMS sensors.
You can rely on this pressure gauge before your upcoming mountain biking journey because it is extremely accurate. This pressure features a good LCD display with LED that you can read in all weather and light conditions.
It is quick and effortless to use whether you are riding at day or night. The valve is made of nickel plated brass to make sure that it lasts for long. The body of the gauge itself is protected by a rubber cover.
The batteries are very easy to replace. The screen automatically turns off if the gauge is inactive to lengthen the life of the batteries. This gauge is great value for the money.
Pros
Very easy to install and use.
Durable protected body and valves.
Gives accurate reading even after being removed from the tire.
Easy to read LCD screen with reliable LED.
Screen shuts off automatically to save the battery.
Cons
Tends to lose some of the pressure when it is removed from the valve.
06. TEKTON 5941 Digital Tire Gauge, 100 PSI
This is a great digital bike tire pressure gauge. The light of the screen provides very great visibility even in challenging light conditions. The lighted nozzle is very convenient to use at night and in extreme conditions because you can see it well. This ensures that you have safe and comfortable rides even if you are biking on a rough trail.
We love this digital gauge because it is precise and practical. Analogue gauges are not as accurate as this digital one. It is made to provide precise reading every time you use it. The nozzle seals to the valve stem to secure your pressure and prevent leaking.
You don't have to be an expert to use this pressure gauge. It switches on easily thanks to the convenient push button. All you have to do is to pick one of the 4 measurements. You can use it comfortably and then it will go off after 30 seconds for long-lasting batteries. This pressure gauge is budget-friendly and doesn't cost much. Nevertheless, it features an ergonomic design that is very comfortable to hold and use. It won't slip thanks to the non-grip surface so that you can use it comfortably whenever you want to.
Pros
Budget-friendly reliable pressure gauge.
Convenient digital LDC for great visibility at night or tough lighting conditions.
Precise and accurate reading.
Convenient push button with 4 measurements.
Ergonomic non-slip design.
Cons
Some users didn't like the plastic valve.
07. Heavy Duty Tire Pressure Gauge
Durability is one of the most famous features of the best pressure gauges for bikes. This gauge is made of brass and steel for extra sturdiness and excellent performance. It won't break or bend as you use it on rough trails. It is also covered with protective rubber so you can rest assured that your bike gauge will be functional for long years.
This pressure gauge is calibrated for accuracy and precision. This means that you will get accurate and precise readings every time you decide to use it. It is great value for the money as it lengthens the life of your tires. With properly inflated tires, you will have a safe ride where the wheels are able to roll over obstacles.
You really need to pack this pressure gauge for your next MTB adventure. Its robust design and excellent parts will make it last for long. It will feel solid in your hand and extremely easy to use in all weather conditions. It doesn't need batteries and this means that you can use it at any time and in any condition. You will always have the best pressure with the lowest maintenance. This might not be an expensive or complicated product. But it is good value for the money as it does exactly what it is designed to do.
Pros
Low maintenance pressure gauge that needs no batteries.
Sturdy construction with a body made of steel and brass.
Covered with non-slip rubber for extra protection.
Accurate and precise pressure readings.
Cons
It is difficult to use in low light or at night because the screen is not lit.
08. Digital Tire Pressure Gauges Mountain Bike
This is an excellent and precise pressure gauge that can deliver up to 100 PSI of pressure with maximum accuracy. It is what you need to maintain the condition of your tires and ensure that you have a safe ride. Well-inflated tires will better overcome obstacles and help you conquer any trail with no problems whatsoever.
You don't have to be an expert to use this pressure gauge successfully. It is designed to be easily used when you are exploring rough terrains on your MTB.
Thanks to its flexible hose, you will easily reach all the challengingly placed valves. The pressure hold and air release function will help you decrease pressure easily if you have to. Even if this is the first time you inflate your tires on your own, you will face no problem as you use it. This is your go-to pressure gauge if you want something that you can rely on in case of emergency.
Because this gauge is designed to be installed to your MTB while you are on your adventure, you can rest assured that it will not break or bend. It is very well made from hard materials that will withstand impact. It uses batteries to provide clear pressure reading for as long as you want to. The screen is very easy to use with big numbers and 4 units available.
Pros
Digital gauge with 4 units to pick the correct pressure.
Flexible air hose to reach all valves regardless of their position.
You can easily inflate or deflate your tires in a few seconds even if you are not an expert.
Strong body with rubber cover to maintain its condition.
Doesn't need much battery power to provide clear and precise pressure reading.
Cons
The nozzle head takes time to be placed properly.
09. AccuGage Tire Pressure Dial Gauge
This is an excellent pressure gauge that you can use to fill your tires up to 160 PSI. It is suitable for people who are on a tight budget because it is great value for the money. It can fit Presta or Schrader valves so you can rest assured that your tires will be inflated the way they should be done.
People who love mountain biking understand the importance of having well-inflated tires. These will be able to roll over and overcome rocks and other obstacles to finish your trail quest while having fun. This is why you need to make sure that you are picking a reliable product. Having your tires properly inflated will also maintain the condition of your wheels and protect your tires in the long run.
The gauge just presses onto the valve. It is very easy to use and suits amateurs as well as experts. Thanks to the analog dial you will be able to read the pressure properly.
Pros
Simple and straight-forward design.
Can provide pressure up to 160 PSI.
Suits various valves.
Affordable price.
Cons
This doesn't provide the most accurate readings.
10. Tire Pressure Gauge by Pro Bike Tool
Nothing beats the quality of this pressure gauge at this price. It is extremely affordable yet it is designed to provide the best performance. It is small, compact and very easy to carry. You can pack it for your next mountain biking trip by storing it in your bag or attaching it to your MTB. It is compatible with multiple valves and will provide the precise pressure reading that you want. You can use it easily to set the pressure of your tires even if this is the first time you use a pressure gauge.
This is a durable gauge that is made of durable aluminum alloy. It won't break or bend upon impact. Thanks to its innovative design you will be able to release extra pressure to reach your target air pressure.
This pressure gauge looks good and comes in 2 versions; high and low pressure. It is very small and lightweight so you won't feel like you're adding extra weight to your bike. This is the best bike accessory to buy for your upcoming mountain biking challenge.
Pros
Budget-friendly beautiful pressure gauge.
Made of durable and sturdy aluminum.
Very lightweight and compact design.
Easy to use to provide precise pressure.
Cons
The dial is small, so you won't be getting accurate readings.
How to Buy the Best Tire Pressure Gauges for Mountain Bikes?
Keeping your tires at the right pressure is essential whether you are an avid or amateur mountain biker. It is necessary for your safety as properly inflated tires will better roll over rocks and pebbles. Keeping the correct pressure will also maintain the condition of the tires and help you explore wild terrains for long.
But how can you pick the best pressure gauge? Here are some features that you need to look out for when you are shopping for the most suitable product.
i. Types of the Pressure Gauge
Pressure gauges come in 3 types. Dial pressure gauges are the simplest ones. The screen of the dial features numbers that you can easily read. Although there is nothing fancy about dial pressure gauges, they are extremely reliable. They might not provide the most accurate reading, especially if the numbers are small.
Digital gauges have easy to read LCDs and usually have LED. This will enable you to read the pressure under different light conditions. However, these run on batteries that you might not be able to find if you are spending more than one day on a mountain biking expedition. They are typically very accurate.
Rod pressure gauges are more compact and very easy to pack. These are light and will not slow you down on the trail. But they are not as accurate as the other types.
ii. Durability
You are going to use your pressure gauge in tough conditions. It should be made of durable materials like steel or aluminum. Aluminum is lighter than steel and brass and this means that it might be more desirable especially if you plan to pack your pressure gauge for your upcoming trip.
Most of the good models will feature a rubber cover. This will protect your gauge and make sure that it doesn't scratch.
iii. Hose
The hose on your pressure gauge should combine flexibility with durability. You need to pick a hose that will bend to reach your valve regardless of its position. This will help you inflate your tires to perfection.
At the same time, you want to make sure that it won't break as you use it and bend it. Otherwise, it will become useless and you will have to replace it in no time.
iv. Easy to Use
If this is the first time you use a pressure gauge for your mountain bike, then you want to buy something that comes with easy to read instructions and hassle-free set-up. The good models usually require no effort as they come ready to use. Pick a model that features an ergonomic design that won't slip.
Conclusion
These mountain bike tire pressure gauges are quite impressive. Not only will they help you enjoy your time on the mountain biking trail, but they will also help you save money in the long run. Properly inflated tires last for long and will keep your wheels in excellent condition.
By reading our guide, we guarantee that you will find the most suitable one to suit your needs. Shopping for the best tire pressure gauges for your bicycle might not be an easy task especially if you are taking your first steps in the world of adventure.
But we guarantee that reading our buying guide will make the job so much easier and more fun.