Top 10 Mountain Bike Trails around the World
Mountain biking is a sport that is sweeping the world in popularity, and for those who catch the bug, cycling their local trails is brilliant – but discovering what the world has to offer mountain bikers is even more exciting.
Who is to say which are the top 10 best trails around the world, but here are ten to mull over as you plan your mountain bike holidays for next year, and the year after and the year after that.
​Please note that as an Amazon Affiliate we may earn commission from qualified purchases — thanks for your support!
1. Whistler, British Colombia, Canada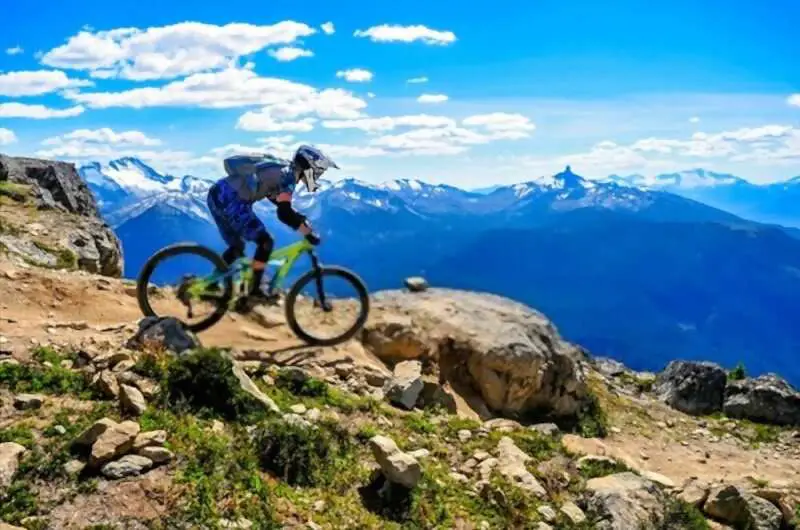 Whistler is transformed from a skiing and snowboarding haven in the winter to the mountain biker and hiker heaven when the snow melts away in the spring and summer. There are more than 70 trails for mountain bikers of every ability on the two mountains that make up the Whistler area. The A-Line Trail is said to be the centerpiece of the Whistler bike park trails. It is 1.5 miles of capping soil, bermed turns, long-distance sightlines, and gnar options. It is a trail that evolves year after year, and a MUST DO for experienced mountain bikers visiting Whistler.
2. Camino de Santiago
This is a journey rather than a one-off route. It is the historic pilgrimage route in Galicia in the north of Spain. The route spans 900km, and the terrain is doable for most abilities – more of a mountain bike tour than a technical trail. You will need to get your fitness up to a certain level to be able to ride day after day if you are tackling this route as a ten-day or two-week holiday – 900km is a lot of riding. Many people ride from Pamplona to Santiago, which is 728km. The official starting point for the full 900km is just over the French border in Saint John Pied de Port.
3. FinaleLigure, Italy
Finale Ligare is a little town right by the sea surrounded by a maze of mountain bike trails. This is such an easy location to reach for mountain bikers all over the world, and you have the chance to experience a little of both French and Italian life if you choose. This town is located just 62 miles from Nice in France and 31 miles from Genoa in Italy. It is the perfect break or holiday for adrenaline junkies. Shuttle buses take riders up to the start of the trails, and then the cyclists navigate their way down the trails. You can book a single ride or all day, which means the shuttle company picks you up and takes you up to the start of different trails over and over again. Combined with some fantastic Italian food, this could be the perfect all-round holiday of sport, eating, drinking, and culture.
4. Vermont, USA
The maple trees in Vermont are what make the stunning red, yellow, and orange foliage in the Fall. And this is a perfect time to go mountain biking in this beautiful state. The Vermont Mountain Bike Association has some fantastic recommendations of trails – from Suicide Six trails and Sugarbush Bike Park's advanced and intermediate trails to Stowe Trails Partnership's network of trails for all abilities, and their mountain bike lessons for beginners or those who want to hone their more technical skills.
5. The Old Ghost Road, New Zealand
This is an 85km journey through the rain forest in the northwest corner of the South Island of New Zealand. It is an old gold miners' road that has been taken over by mountain bikers. This is not one for the faint-hearted, and it is recommended for people who are biking at least twice a week and are comfortable cycling long and challenging single and double tracks, technical singletrack descents, rocky trails, and some that are muddy.
6. The Fjords of Norway
Norway is the place to go for daredevil descents. Some of the ski lifts are even open in the summer for mountain bikers after the ultimate downhill adrenaline rush.
One of the biggest challenges for advanced mountain bikers in Norway is the Mefjellet peak. It is a 1,100m bike and hike to the top of the glacier ridge, which is surrounded by snow-capped mountains. From the top, you will be started by negotiating rock slabs on a winding route of singletrack down the open mountainside. Then, when you reach the woods, the route becomes filled with flow and features for you to negotiate right down to the shores of the Gåsstenfjord.
7. Lupra Pass, Nepal
Nepal is always considered a haven for hikers who want to trek some of the world's largest mountains, but there are also some unbelievable routes for mountain bikers.
This is one for advanced riders. The Lupra Pass ride would be one day of riding as part of a long riding trip – perhaps a three or five-day ride. You will start with a 300m ascent through the Lupra Pass, which will take you up to 4,100m above sea level. The high altitudes could be a real challenge. From there, take a one-kilometer vertical drop down the mountain on a fast, flowing, and dusty singletrack. There are then a series of steep switchbacks before you traverse a suspension bridge to Jomsom. The second half of the ride is through urban Nepalese trails, including alleyways and farmland.
8. 401 Trail, Colorado
If you are cycling the 401 Trail in Colorado, then you will need to have proper fitness be mountain biking at least twice a week. This trail has steep singletrack climbs, rock gardens, technical singletrack descents, switchbacks, and off-camber forest trails. This route is a rollercoaster of ups and downs, including fighting through the trees and the flower meadows on the valley floor.
9. Kirroughtree, Scotland
This is one of the world-class 7Stanes mountain bike centers in Scotland. It is based in the southwest of the country and has one of the longest black-graded trails in Scotland – Black Craig. There are rock slabs, rocky and rooted singletracks through forests, and the whole route is signposted. A rugged challenge for experienced mountain bikers. But take a look at the different mountain bike centers for trails that fit all abilities.
10. Cotopaxi, Ecuador
This must be one of the most unusual mountain bike routes you will find in an area that most would not consider a traditional mountain biking destination. The biking terrain on and around the volcanic slopes of Ecuador are diverse, including singletrack through tropical jungles, ash, boulders, sand, and petrified lava. There are three 700m steep descents, technical rock chutes, sandy trails, and a field of ash where mountain bikers are swerving and turning like skiers to move through it.