The Ultimate Guide for Bike Fishing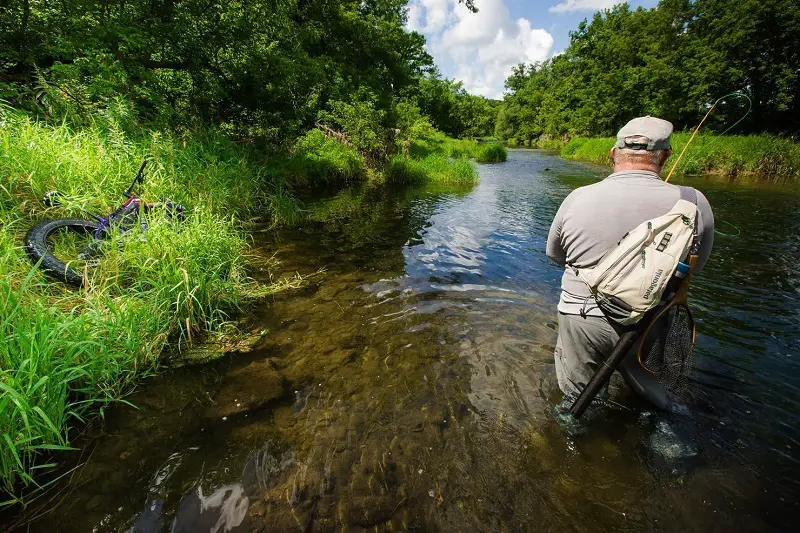 The warm weather usually lasts for a limited amount of time every year. For the outdoor person, this means that they have to maximize on this limited time and do as many outdoor activities as possible. Some of the most exciting outdoor activities during summer include fishing and biking. Instead of dedicating a whole day for biking then another similar time period for fishing, why not combine them and finish your day of bike packing with some freshly caught fish roasted on your campfire. The advantage with biking is that you can go through dirt roads and narrow paths faster so as to get to the remote streams and rivers to fish for your camp dinner. However, for this to work, you have to follow these ultimate guide for bike fishing.
​Please note that as an Amazon Affiliate we may earn commission from qualified purchases — thanks for your support!
Get the right bike
Since you will be heading off road most of the time, you will need an off road bike. It should have a strong and sturdy build quality so that it is reliable throughout the whole trip. Some bikers prefer fat tired bikes because they have a large surface area for gripping the ground while other mostly consider practicality such as having a rear rack, which would be ideal for carrying fishing gear. All these are important things to consider because ultimately, they are meant to make the whole bike fishing trip better and more convenient.
Choose a good route
Even though bikes are advantageous when it comes to remote area accessibility, they too have their limitations. Rocky terrain, for instance, might wear your bike down while steep hills might be very tiring to ride on, even if you have a mountain bike. Therefore, before any bike fishing expedition, you should study the area's topography map and determine the route that has a suitable terrain for biking.
Have the right fishing gear
Obviously the bike fishing expedition is planned in advance so you would be aware of the river or lake that you are going to fish on. With this in mind, you need to carry the right tools for the job. For instance, bass and catfish are very common in lakes and therefore require a specific set of lures, rods and reels. A spinning rod would come in handy when fishing for bass as well as other deep water fish and should be highly considered for such a trip. On the other hand, fly rods should be considered for river fishing so as to catch the surface feeding types of fish.
Pack everything you can carry
Fishing is very gear intensive. You should try to carry as much gear as possible so as to successfully land several fish. However, this might be really heavy and uncomfortable to ride with and the best option is to make the bike carry most of it for you. Bikes with racks would come in handy in such situations while innovative products such as fishing rod holders for bicycles can be easily tied onto the rear of your bike frame to carry at least 2 fishing rods.
Pack a repair kit
Bikes can be very convenient in taking you deep into the backcountry but when they break down, they can leave you with a lot of "pushing work" to do. This might wear you down really fast and make your entire expedition stressful and tiring. You should carry a small repair kit that contains the basic kits such as a tire mending kit, a small bicycle pump, a spoke wrench and a chain tool for doing the small fixes that might ground you out there.
Dress for the occasion
Bike fishing clothes are not usually defined; you can wear what you like. However, it is recommended to have some lightweight boots on so as to keep your feet dry as you navigate through puddles and shallow streams. Shorts are also good because they keep you cool and dry. Lightweight pants, however, are recommended, especially if you have to ride through grassy terrain or through sections of the woods that have massive undergrowth, which might contain stinging nettles and thistles.
Tread lightly
There are chances that you will encounter other fishermen on the trail. It is best to respect them in all ways, for instance, avoid splashing water on them if you find them at a river crossing. For most fishermen, fishing is a peaceful sport and therefore, show respect to them by giving them their peace and this will also keep the respect that they have for bikers as well as for fellow fishermen.
Conclusion
Bike fishing is a very interesting combination of sports that enables you to go fishing into practically virgin fishing grounds deep inside the backcountry. For the outdoor person, this enables you to kill two birds with one stone, effectively taking two items off your summer checklist and leaving you with more time for other outdoor activities. Check out the blog Outdoor Marvel to get idea of more outdoor experiences. You just need to follow the guide above and uniquely experience the outdoors.