The 5 Best Mountain Bike Tires with Buying Guide
If you are a true mountain bike rider, you would know how the experience is either enhanced or just destroyed because of the tires that are used on the bike. The Best mountain bike tires will make everything worthwhile.
Your ride will be free of worries, and you will be able to enjoy your experience without any nagging voices in your head telling you to check the bike over and over again.
If you are a newbie in this amazing sporting activity and are overwhelmed by the plethora of information available on the internet, worry not! This article will give you complete and comprehensive information that you will need. Everything you would require to know about mountain bike tires is condensed in this one place.
​Please note that as an Amazon Affiliate we may earn commission from qualified purchases — thanks for your support!
Quick Answer – Best Mountain Bike Tires
$21.99
in stock
2 new from $21.99
3 used from $20.81
as of October 2, 2023 10:14 am
Last updated on October 2, 2023 10:14 am
So wipe that sweat off your forehead, sit back, and relax. This article will tell you what to look out for when going to buy a mountain bike tire, and give you information about the best mountain bike tire manufacturers out there and what are they making. Read more ahead!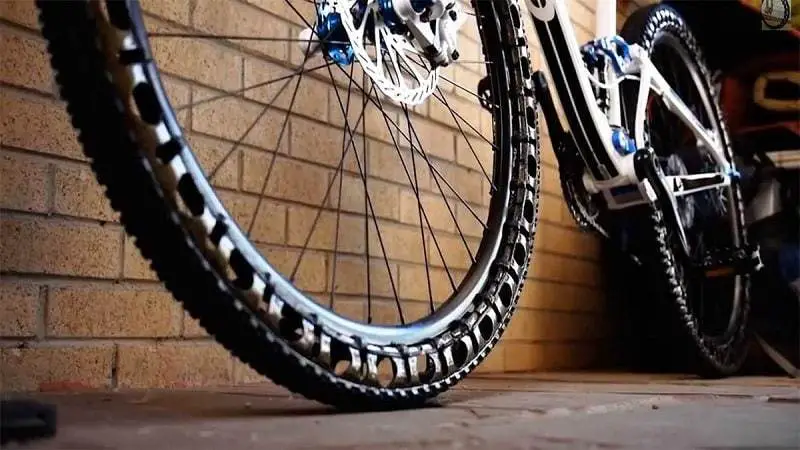 Detail Review of Top 5 Mountain Bike Tires
Below are five of the most reliable manufacturers you should go for. The mountain bike tire reviews for these products say a lot about them, and will surely satisfy you.
1. Continental ShieldWall Mountain Bike Tire
In case your mountain bike has tires that are worn out it is the ideal time to replace them with the Continental ShieldWall tire. This tire is ideal for people who compete in races or if they are into off-road cycling.
This tubeless-ready tire with three layers helps with protection from puncture. It has a supreme grip and a mileage that is high by all means compared to other options due to the power grip compound in it.
It is also capable of providing a seamless ride with speeds of 25 km/hr with immense balance. The low weight factor and self-damping properties make it an ideal choice for most race bikes in the market. It also has very little resistance while rolling which makes it perfect for high speeds and racing abilities on your ride.
You can even choose this tire to be used in marathons for its ability. It is also certified to be used on an E-bike with certification and a 3×180 TPI casing. The lightweight makes it wobble free even on downhill ascends on different mountain bike models.
Features at a Glance
These are tubeless-ready tires that fit all tubeless rims that make mounting effortless
Low weight of 795 grams for 26″ x 2.4″ and 815 grams for 27.5″ x 2.4″, and 865 grams for 29″ x 2.4″
Ultimate grip and higher mileage with PureGrip compound
Better traction support on difficult trails with small knobs and multitude of tread patterns
Improved protection from punctures with the ShieldWall system
Ideal damping properties along with higher flexibility suited for all-terrain riding
2. Schwinn Replacement Bike Tire
Schwinn offers one of the best replacement tires for bikes and motorized bikes. It is constructed with a steel bead for enhanced durability during different ride patterns. This includes trail riding or paved riding as it has a pattern of high traction tread.
This hybrid style is ideally suited for 20" bicycles from different manufacturers in the industry. If you choose to use it on a motorized bike you can expect a front tire mileage of 1,500 miles and 700 on the rear.
The best-suited air pressure for the tire can be anywhere between 24 – 26 PSI depending on the terrain that you choose to ride. This rubber tire offers a smooth ride on off-road conditions as well as regular rides. The tire comes neatly packed and is available at a decent price too.
The tires are best suited when you choose to use them with a self-sealing tube for better puncture resistance. The performance of these tires is proven effective in snowy, watery, dirt, and other wet conditions. A switch from an old tire of yours to this one can make your ride effortless.
Features at a Glance
Steal beaded construction of the tires provide ultimate durability
High in mileage of up to 1,500 miles with the front tire and 700 with the rear tire on motorized bikes
Trail riding made better with the tread of high traction with 24 – 26 PSI tire pressure
Hybrid design suits all bikes and motorized bikes that are 20"
Best in terms of affordability in this tire category
Optimal with self-sealing tubes for tougher terrains or off-road rides
3. Maxxis Ardent Single Compound Folding Tire
It boasts a large wheel with volume that guarantees fast and smooth rolling. It constitutes a "blocky" tread and center knobs that are ramped that ensures low rolling resistance, increased cornering traction, and wonder grip with control over brakes as well. This tire comes under the category of big tires, and the important part is that it is tubeless. It comes with foldable bead as well.
Recently, tubeless tires have been the news. A tubeless tire works by an air tight seal that exists between the tire and a rim, canceling out the need for a tube.
A tubeless tire comes with high puncture resistance and is much lighter too. It thus performs better in low-pressure areas as the tire is more stable and well latched on to the ground. For trail biking, a lot of experts recommend tubeless tires.
So you can easily ride at low pressure without worrying about punctured tires and shaky grip. Maxxis Ardent Single Compound Tubeless Ready Folding Tire can be used as either the front or rear tire, and boasts a good performance in any trail conditions, soft, hard, loose, wet or dry. Maxxis certainly makes some of the best mountain bike tires.
Features at a Glance
29 inch big tires
Great grip
Dual Compound
Tubeless tires, great puncture resistance
Ramped center knobs
Rolls fast because of the tread
Foldable bead
Perfect width can be used in either front or the rear
Will perform well in all kinds of trails
4. WTB Velociraptor Comp Tire
Anyone looking for an ideal front tire replacement can choose the WTB Velociraptor Comp tire. You get maximum tractions suited for corners with a design that is steering specific. These tires are durable and are of tube type-specific with a wired and wider bead.
You can choose to use these tires on cross country trails, dirt tracks, and for city rides. The tire comes in dimensions of 26 x 2.1 x 26 inches with a weight measurement of only 829 grams. With VelcoiRaptors they are uniquely classical yet efficient by all means.
The tire can be inflated to 35 – 40 PSI for ideal riding on all terrains. From a standstill position if you wish to get a quicker start you might want to use them on the rear of your bicycle as well.
Comfort paired along with durability makes it a great buy for people with bicycles ridden on different conditions. The knobs on the side are well suited for riders on mountain trails. Affordable tire option for people who are looking at great mileage for the front and rear tires.
Features at a Glance
Product dimensions are of 26 x 2.1 x 26 inches
Light in weight at only 829 grams or 1.4 pounds roughly
Suitable for both front and rear of your bicycle
Knobs on the side of the tire provide better stability thus safe in corners
Can withstand tire pressure of up to 40 PSI making rides effortless
Faster start from standstill position due to better traction if fitted on the rear
5. Maxxis Aggressor EXO/TR Tire
If you are looking for the best replacement of a tubeless-ready tire the Maxxis Aggressor EXO/TR Tire can be a good option for you. The tire can be used on rocky trails and off-road biking providing a smooth ride for the rider.
A supreme grip with the ideal tread patterns makes the riding experience extremely good with excellent comfort even in city rides. Climbing uphill is relevantly easier with these tires on the rear providing with the necessary traction. The downhill ascend is not difficult either and thanks to the grip it offers with good braking efficiency while maneuvering corners.
If you are an aggressive rider on difficult terrains you can choose to use these tires for the front as well as the rear of your bicycle. Corner riding can be made safer due to the grip on the side knob.
The sidewall also acts as a protector when you ride on rocks or trails with hard roots. The product dimensions are at 11 x 9 x 5 inches and the weight is at 1.98 pounds only making it lighter than its competitors.
Features at a Glance
Effortless ascends and uphill climbing with good traction
Smooth ride on mountain trails and off-road rides with hard knobs
Dimensions of 11 x 9 x 5 inches and a weight of only 1.98 pounds
Side knob and grip on the tire makes it safer with anti-skid properties
The tires are tubeless-ready and can be mounted with relevant ease
Suitable for both front and rear of your bicycle for city rides too
What Should You Know About Bike Tires, Before You Buy
If you have caught the mountain bike bug and want to lose yourself out on the muddy roads, there are a couple of things you would need to know before venturing out. Keep reading on to know vital information about mountain bike tires.
i. Make
A mountain bike tire has specific features like knobs (raised knobs) and lugs that make it easy to dig into muddy terrain and provide a good grip on the bike.
You know you have the best mountain bike tires if your bike gives a low rolling resistance, secured grip, and some sort of "cushioning" so that every journey of yours becomes an experience in itself.
ii. Size
There are three essential sizes tires come in: 26 inches, 27.5 inches, and 29 inches, and you get one that fits your wheelset just fine. You will know the size of your wheelset by the manufacturer's labeling onto it.
iii. Width
Apart from wheel size, tire width is also essential, as it affects the performance of the mountain bikes. If the tire is wide, it will provide increased stability on fast speed, and enhanced grip and traction, because of the higher surface area covered. But, they decrease the mud clearance and cause higher friction.
To get the most benefit and least problems, a tire with a width of 1.8 to 2.2 inches is deemed to be the best by the bikers. Tires of 2.1 to 2.2 inches of width are considered better for downhill racing. Each brand of mountain bike tires, however, will have their own sizes.
iv. Front and Rear Tires
Some companies of tires come with specific tires for the front and the rear, which are not necessarily nonexchangeable. You can use the rear tire for the front, but the specific makes of each allow for optimized performance if used in the place it is meant to be at.
Front tires consist of additional directional knobs having low profiles that will increase speed and corner traction. A front tire with larger profile can also be found among manufacturers, and this is made to reduce the problem of building up of mud in the wheelset.
A rear tire is made such that it has more horizontal spanning knobs to give better traction. This feature also helps prevent the rear wheel from going astray in wet and muddy terrains. A narrower rear tire improves the mud clearance when there is immense debris being carried out by the tire.
v. Different Trails
If you are a cross country rider, you should go for tires with small and smooth knobs that are fast-rolling, with a relatively narrow width. This sort of tire will perform well on straight or grassy terrains. If met with conditions, you could change your knobs to larger ones for improved traction.
If you are a trail rider, you will need a tire that gives you maximum grip, even more than cross country rider tires. Trail riding mountain bike tires come with soft compounds that tend to latch on to rocky terrains.
These tires also have wide profiles so that they can endure corner traction. Basically, the rockier the terrain is, you will need wider tires with softer compounds.
The third type of tires is the off-road tires that have a pressure range. This range determines the support for a range of minimum to the maximum weight of the rider. As a caution, a rider should not exceed the maximum weight or there will be an imbalance of pressure.
When you are venturing out to buy new tires, keep a lookout for the specific requirements, you may have according to the trail you are taking. Above are some of the well renowned, best mountain bike tires manufacturers and models that you should check out, according to the user reviews. Keep on reading!
Conclusion
Hopefully, by this time you will have acquired a lot of necessary information regarding mountain bike tires through this article. Mountain bike tires, as written above are obviously an essential part of the bike, and the ride, and the journey as well. Before you venture out to buy new ones, remember the essentials. Harder material tires will last longer but are usually less responsive. Softer material will endure multiple types of trails.
Tread patterns determine the ability of the tire to dig in the trail and will also affect the weight when coming downhill. Size is important, but it also depends on the model and size of the wheelset. The width determines the mud clearance and gives control when cornering. Wider widths also give a better handlebar grip and control. In the end, it all comes down to tread patterns, what trail you are going to take, and what you want out of the biking experience. Good luck on getting the best mountain bike tires!